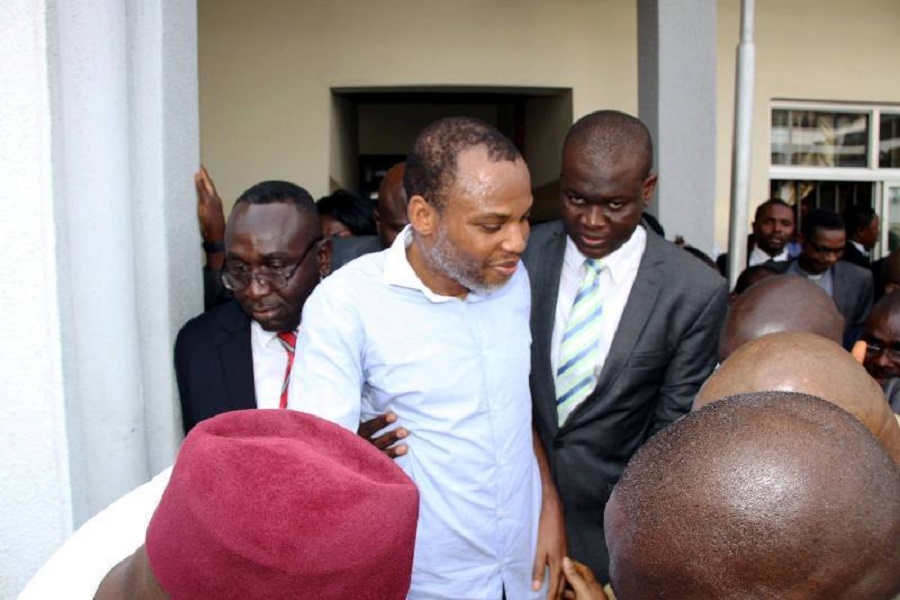 The joy that accompanied the supposed bail grated by the Federal high court may have been short lived. This is because of the bail conditions set by the federal courts today.
The Justice had set the bail conditions to be ridiculous and simply wicked. Justice Nyako in her ruling stated that the  IPOB leader is expected to provide three sureties one of who must be a serving senator, a jewish religious leader and highly respected person and must own a land in anywhere in Abuja. She set the bail bond at N100 million for each surety.
She ordered that he should never grant any press interview pending the outcome of his trial, that he will not be in a gathering of more than 10 persons. The Judge said Kanu's bail will be revoked if any of the orders are flouted.
These bail conditions are simply not realistic. It cages Nnamdi Kanu and potentially sets him up for an eventual lock up or harassment by the authorities should he decide to attend a Sunday church service or a Jewish service or a birthday get-together for his children or the funeral of a close family relative. It defies logic and threatens to put Nnamdi Kanu is a tighter corner.
Nnamdi should simply turn away from the bail conditions and continue with the trial from behind bars.