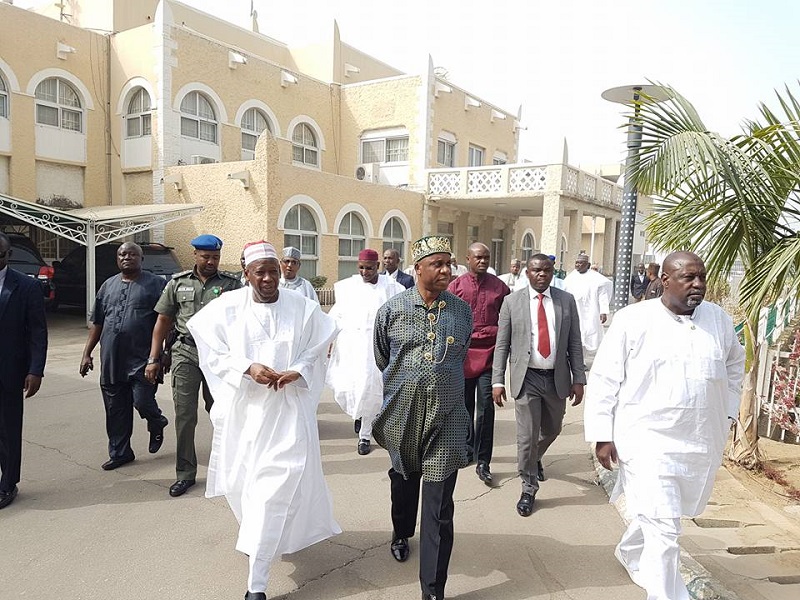 The Executive Governor of Kano State His Excellency Dr Abdullahi Umar Ganduje OFR and members of the state executive council on Saturday the 28thday of January 2017 received the Honorable Minister for Transport, Chief Rotimi Amaechi at the Government House Kano.
The minister said that he is in Kano to thank Governor Ganduje who was the Chairman of APC National Campaign Council for the recently held Rivers state legislative elections which he said Dr Ganduje led the team to victory, securing one Senatorial seat and other house of reps seats while the rest are in contention.
He went further to inform the governor that preparations are in high gear for the commencement of the Kano to Kaduna rail line expected to commence before the end of this year. He added that about 100 new coaches will be added to the existing rail running from Kano to Lagos in order to boost economic activities of the nation.
Hon Amaechi then expressed his delight over the developmental projects embarked upon by Dr Ganduje despite the economic downturn caused by dwindling oil revenue. Saying that he has seen tremendous amount of development from the last time he was in Kano to date. Commending the Governor for this laudable initiatives that is transforming the state.
In his remarks, Governor Ganduje thanked the Honourable Minister for the visit and stated that the victory in Rivers was largely achieved because of the efforts of the Hon Minister and other stakeholders of the state. He further noted that despite the thuggery and chaos championed by the Rivers Governor Wike and PDP, he was delighted that people of the state were courageous enough to come out enforce and voted.
Governor Ganduje also used the medium to inform the minister of the state's desire to embark upon the construction of a rail line within the metropolis for enhancement of the state's transportation infrastructure which will ease vehicular movement as well as enhance mass transit. Dr Ganduje said that the state will soon write to the ministry of transport officially intimating it of the project before its commencement.