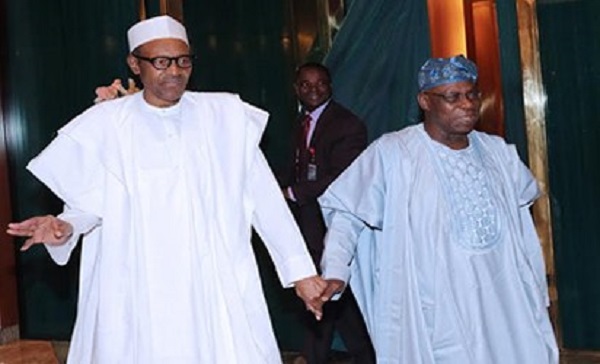 Obasanjo definitely took credit for engineering the Summit. I believe Obasanjo in his wily ways is making the case that appeasement of the SE will douse separatist tensions. His signature move, which he passed on to Jonathan, was to dangle the second Niger Bridge before Ndiigbo without true intent to complete it. The gimmick is to pull Ndiigbo by the neck using the second Niger Bridge as the rope.
It worked for both Obasanjo and Jonathan.  Their gimmick was simple. They dangle the project and their Igbo proxies and foot soldiers were asked to carry the message to all nooks and crannies of Igboland announcing that the government of the day was an Igbo lover. It worked well for OBJ and GEJ.
Meanwhile completing the second Niger Bridge was considered a bad political move because they believe it is the best rope with which to tie Ndiigbo down politically. That is fa ji ya eme anyi ewu akpu akpu.
No doubt, OBJ wanted to teach Buhari hands on lessons on how easy it is to control Ndiigbo. The second Niger Bridge was packaged and made it through the Federal Executive Council recently.   Obasanjo in his wily ways arranged his proxies and called it a Summit and the Igbo scramble began.
When ndi APC looked around and saw mostly Obasanjo's proxies, they demurred and avoided the Summit.
Recall that the Summit was initially billed as an APC initiative led by Ogbonnaya Onu and that Buhari was coming to address Ndiigbo. It turned out however that Obasanjo and his proxies wanted to upstage the President and take credit for it.
It gets more interesting.  Obasanjo truly believes in inclusiveness and one Nigeria. He is not an Igbophile per se but he believes in minimal Igbo inclusiveness.  He has also made up his mind that Buhari was leaving after one term and he is positioning himself to be central to a massive political plot to get Buhari out of power.
I believe that in 2017, we will be treated to a mega political alliance led by Obasanjo in which Tinubu and Atiku will be key players.
Without saying so explicitly, Obasanjo is asking Ndiigbo to band together and be united in that new platform so that a case for Igbo Presidency or Vice Presidency, most likely, can be made.  Obasanjo understands that if Ndiigbo do not present a substantial voting bloc in the new party, that it would be impossible to nominate onye Igbo for Vice President.
Buhari's own strategy for Igbo containment is different.  He believes that as long as Ndiigbo are divided, that they will never amount to much politically. So ahead of Obasanjo's power play, he sent his trusted foot soldier, the Sultan of Sokoto, to go and make their own Igbo lover pitch.
What we saw yesterday was a scramble for Igboland and her votes.  After being jilted by Tinubu, Buhari's anti Igbo stance is softening on the edges because APC will need SE/SS votes to succeed if Tinubu causes massive disaffection of APC in the Southwest. Meanwhile,  Obasanjo, the King maker, wants Ndiigbo to be ready to join a new mega party en mass so that he could engineer a top position for Ndiigbo and quench their hunger for separation.
So ndiAPC and the Presidency shunned the Summit because they didn't feel comfortable sharing the same stage with Obasanjo whom they suspect must be throwing an undercard that is not to their favor.  They prefer to package their own program of SE appeasement and be given full credit for it when they present it early next year in their own Summit.
Ndiigbo, let's stop being political ashawo. This our no condom no matter political harlotry is why they are scrambling for us after the Whiteman did his own 1814 scramble. Ndi ugwu are doing us Operation egwu eke ogba.  Ndi ofe mmanu are doing us Operation ewu akpu akpu.
Without oke okwu:
They can keep the second Nigeria Bridge and their appeasement gimmicks.
No restructuring, no 2019 elections. That is our stand. Make that clear.