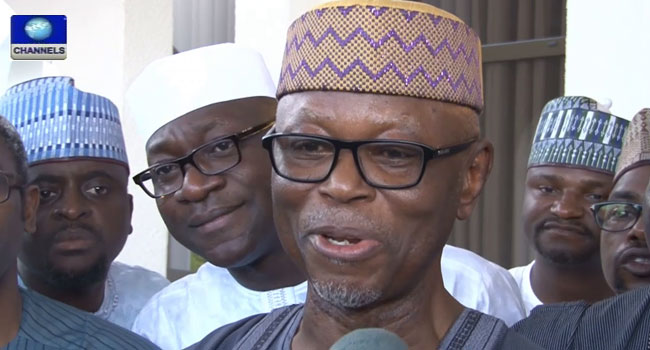 The acting national publicity secretary of the ruling All Progressives Congress (APC) Comrade Timi Frank, has said that Chief Oyegun, the national chairman of the party responsible for the internal wrangling rocking the party and not "desperate politicians" as claimed.
Frank was reacting to a well reported statement credited to Chief Oyegun saying that "What is happening is not about the national chairman but on the need to take control of the party ahead of 2019."
Chief Oyegun spoke in Sokoto when he declared open a three-day retreat for Kano State officials and stakeholders on the topic Political Party Management.
A statement signed by the APC spokesman on Sunday in Abuja, said "Chief Oyegun has resulted to blackmail against party leaders across board who want him removed so as to secure the favour from the presidency."
The statement said: "It is confusing and contradicting when Oyegun said that all is well with the party and still went ahead to point accusing fingers that some persons want to take control of the party ahead of 2019.
"It will be a good thing for those persons who meant well for President Muhamnadu Buhari and the party to take control and ensure victory for APC at any election than Oyegun, who has lost electoral value and without mind of his own to continue displaying incompetency as our national chairman.
"Again, it is now clear that if there is anybody trying to hijack the party, that person is Oyegun who is being control by external forces and not the likes of our national leader Bola Tinubu, Alhaji Atiku Abubakar, Senate President Bukola Saraki, Speaker Yakubu Dogara and others who worked tirelessly to ensure victory of APC and still working to rescue the party before Chief Oyegun place a price tag on it.
"I want to appeal to Mr. President again to heed to the earlier call by our national leader Asiwaju Tinubu that Oyegun should step aside before it is too late. The slogan Change begins with me must start from our party the APC.
"This is a national chairman who his emergence has done more harms than good to APC. He has not been able to resolve one crisis rocking all the state chapters of our party. Not that alone, our national chairman does not respect the party constitution in calling for regular meetings as expected and many other constitutional provisions of our party, as it is obvious in my case."