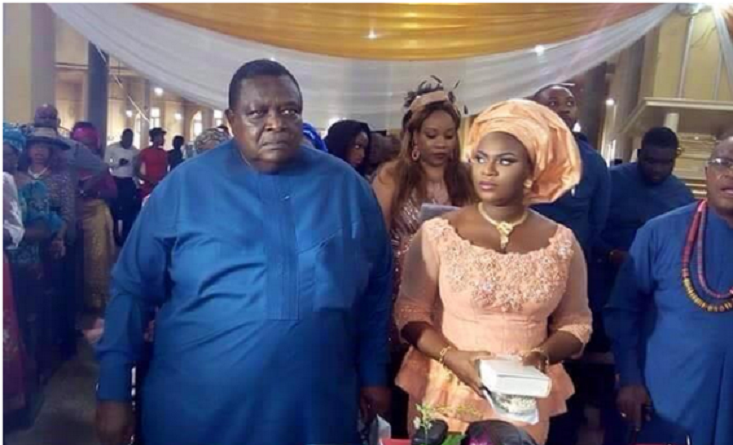 All is not well with the Publisher of Champion newspapers, Chief Emmanuel Iwuanyanwu as his children are set to battle him over plans to sell of the ailing newspapers.
Loading ...
The children led by Iwuanyanwu's first daughter and Editor in Chief/ Managing Director of Champion newspapers, Mrs Nwadiuto Iheakanwa are said to have vowed to resist  the plan with the last point of their blood, stressing that they would not allow the business mogul to sell off the only major legacy standing in his name.
A family source told 247ureports.com that the children had warned potential buyers to steer clear of the expansive newspaper complex or risk losing their money as the newspaper is not for sale.
Before now, rumours of potential investors bidding to buy the ailing newspaper had been rife. Former Abia state governor, Chief Orji Uzor Kalu and Capital Oil boss, Chief Ifeanyi Uba, were at different times, rumoured to be interested in buying the newspaper.
Champion newspaper which was a leading media organization established in 1988 by Iwuanyanwu is now a shadow of its old self, as it has disappeared from the news stand; most times, publishing once a weekly.
The source further stated that Nwadiuto and her siblings have accused their father's new wife, Frances, of pressuring him to sell off family assets and buy new ones in the name of her son, Kamsiyochukwu.
According to the associate, 'Iwuanyanwu may have sold off the hotel he had in Calabar, Cross River state. He has sacked his first son, Jide from his house in Abuja. His children think the new wife is being behind the recent plan to sell off Champion newspaper. From the way I see things, there is trouble for Iwuanyanwu as the children are set to battle him if he makes further attempt to sell the newspaper."
Iwuanyanwu's relationship with his children has continued to worsen since he decided to marry Frances, who is a daughter to his friend. He has written more than two wills which he has amended on several occasions in a bid to avert crisis in the sharing of his properties to his children; a situation which is said not to have gone well with Nwadiuto and her siblings.
They had wanted their father to go for an older lady who will not bear children, but the business mogul had other plans and insisted on getting married to Frances who had now borne him a son.
At the moment, Iwuanyanwu is said to be planning a birthday party abroad for Frances' parents. Iwuanyanwu's first wife, Eudora, died on August 2011 after 40 years of wedlock which produced eight children, most of who are older than his new wife.