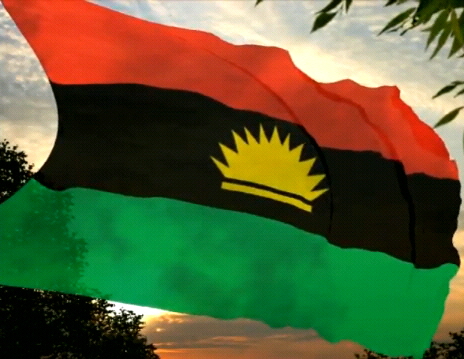 Movement for the Actualization of the Sovereign States of Biafra has urged President Muhammadu Buhari to organize a referendum on the agitation by the people of the former Eastern region to actualize an independent state of Biafra, stressing that attempts to kill the agitation will never succeed.
Isaac Boro Fought With Nigeria Against Biafra. Was He a Legend or A Betrayal To The People Of Niger Delta
Betrayal (69%, 414 Votes)
Legend (31%, 183 Votes)
Total Voters: 597
Loading ...
MASSOB Leader, Chief Solomon Chukwu who stated this in an interview with newsmen, while reacting to the seizing of pro Biafra newspapers by soldiers in Aba, penultimate Monday,  insisted that no force can stop the actualization of an independent state of Biafra, adding that the people of the former Eastern region have suffered much marginalization in Nigeria and should be allowed to have an independent state.
Chukwu who was represented by MASSOB's National Director of Information, Sunny Okereafor, described the seizure of pro Biafra newspapers as an attempt to stop the people of the former Eastern region from speaking out against the continued killings and injustices being meted out against them.
According to him, "We are worried about the crude tactics adopted by the federal government and its agencies in frustrating the actualization of an independent state of Biafra.  How can soldiers descend on innocent vendors and seize newspaper copies because they published pro Biafra stories? Who are the publishers of these newspapers? Is it not Igbo businessmen?  It is part of the larger plot by the Nigerian government to continue to cripple Igbo economy and stifle the voices of the marginalized people of the former Eastern region. It is another attempt to stop the world from hearing our cries. But the most interesting aspect is that the more they try to suppress Biafra, the more it keeps springing up and staring them in the face.
"We have said it at several fora that there is no going back on the agitation for Biafra. We are tired of the double standard position of President Buhari and the Nigerian government on the issue of Biafra. President Buhari supports the granting of sovereignty to the Palestine, but Biafra must be suppressed at all cost and its agitators harassed, detained indefinitely and killed. Why does Palestine deserve independence while Biafrans will continue to be treated as a conquered people?  President Buhari is committed to ensuring peace and stability in foreign countries, but Biafra must be destabilized. These are clear indications that our people have no future in Nigeria."
MASSOB berated the governors and leaders of the South East and South South states for keeping mute at what it described as the unbridled intimidation and injustice being meted out to the people of the area and called for a change of attitude.
"Governors of states in the former Eastern region, particularly the South East zone are afraid to speak out against the marginalization and intimidation of their people. Even on the killings of pro Biafra agitators who were praying at Aba, there was no condemnation of the act by any South East governor. Even the Abia state governor, Okezie Ikpeazu who the incident took place in his state carried on as if nothing happened. This should stop because they were elected to defend the peoples' interest."