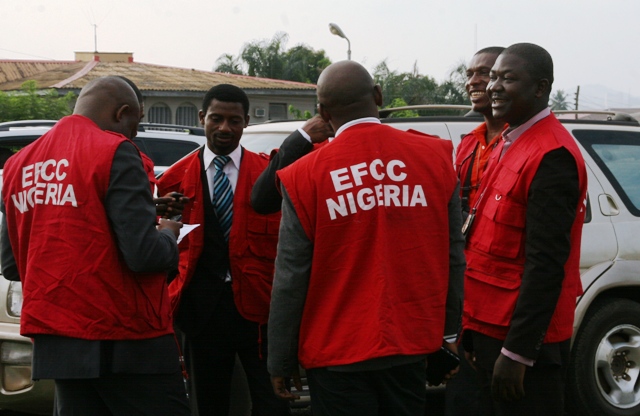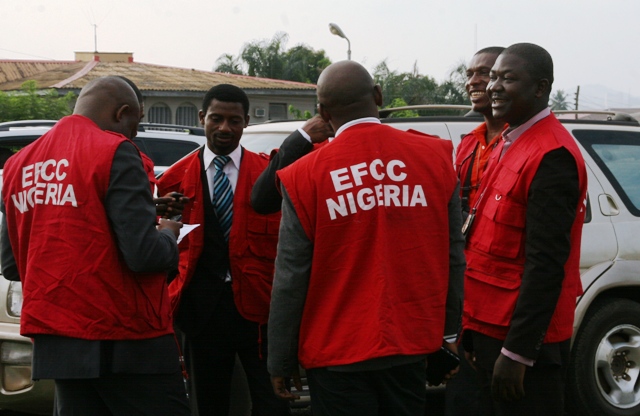 The journey of a thousand mile begins with the first step, so let Nigerians begin a brand new journey of the Buhari era of anti-corruption and disconnect from the old order. As President Muhammad Buhari led-federal government labors to battle corruption and stealing in government, it needs to be reminded to direct its anti-corruption agencies to expose the scandal of the last minute allocation of federal government houses to crooks and rogues that assisted former President Jonathan to butcher the country under several guises.
The investigation should start from the last minute parting gift of 500 Federal Government Houses located in highbrow areas of Lagos and Abuja.
According to an impeccable source, the houses were allocated to some ministers, political aides, hangers-on, sycophants, rabble rousers and top military officers, considered most influential in the Jonathan administration including the sacked EFCC boss, Ibrahim Lamorde allegedly for providing cover to several cases of corruption and stealing that bedeviled the Jonathan administration which later caused its terminal end with majority of Nigerians celebrating the timely exit and possible consignment to the bottom pit of hell.
The source revealed that members of the Federal Government Allocation Committee of the houses were not only corrupt and unfit for trust but were alleged to be influential in the allocation of the choice properties and offered a colossus undisclosed amount of money sourced from public treasury as bribe to some EFCC officers for shield against arrest and an alleged brokered deal of a monthly maintenance allowance to sustain them as their stooges in the agency that should be further investigated to sanitize the agency against the dubious activities of planted agents of corrupt public servants and private individuals. The EFCC is alleged to be harboring some hardened rogues whose trade is conniving with suspected crooks to escape justice.
The source revealed that, "In the EFCC, crooks and rogues have their moles who feed them with happenings in the agency and the way out. Most State Governors and other corrupt public officers have their moles in the EFCC who provide them latest information and the way out for a fee. Ibrahim Magu has to sanitize the agency before he ends-up like his immediate predecessor that was ineffective and compromised
"Magu should strive to revisit all cases not charged to court but closed by his predecessor and cause a thorough study and immediate action on all petitions of substance hitherto hidden in the cupboards".
It was revealed that the committee members charged with the responsibility of allocating the houses had corruptly cornered several of the allocated houses to themselves thereby denying the original allottees access to the properties including some of its ad-hoc staff despite certifying the conditions for the allocation.
Further finding revealed that most of the committee members had from proceeds of the sharp corrupt practice invested on properties in other locations nationwide as a cover intended to further exploit other needy Nigerians.
The source alleged that most of those who served as members of the allocation committee are rated as corruption personified allegedly fronting for other senior crooks within the Jonathan ousted regime as most of them do not subscribe to anything transparent other than insincerity and stealing of public properties.
"The allocations were not given in the names of the beneficiaries of the largesse but in the names of front-companies and faceless unregistered companies to cover the scam against ease of exposure
"Most of the allocated houses are presently abandoned as the beneficiaries are looking for private sector, investors to purchase them at exorbitant rates
"Majority of the allocated houses are scattered in highbrow areas of Abuja and Lagos in; Asokoro and Maitama districts of Abuja and Emotan road at Apapa GRA, Liverpool and Marine roads, Park lane and Child avenue all in Apapa, Lagos and few at Queens drive (Oyikan Abayomi) and Bourdillon road, Ikoyi where the sacked EFCC boss, Ibrahim Lamorde is alleged to have his own allocation of a mansion and two bungalows with a large court yard. Some of the houses allocated out were even guest houses belonging to MDAs at unbelievable prices beyond human imagination.
In another development, a source close to the FCDA Director for Housing, Aliyu Jungudo has debunked allegations of any scam in the allocation of FCDA houses.
According to the source, all allocations were made through due process before issuance of release letters to beneficiaries.
"In FCDA, a survey of the exact houses is first carried before they are allocated to beneficiaries through due process. In few cases, errors of double allocation are recorded. That usually becomes a problem to handle although not caused by our committee but we have to intervene to normalize the situation for probity. We verify who was first allocated, mode of allocation and level of financial commitment. In most cases, first beneficiaries are reconnected to their legitimate property.
"For instance, a lady reported a complaint of reallocating her house to another person which she was allocated in 2006. Erroneously, the same house was reallocated to an FCDA political office holder.  We verified her claim to be genuine and cancelled the allocation of our senior official. FCDA committee believes in due process, the rule of law and transparency in its dealings. The committee has nothing to hide as all transactions are in the open. But as human beings, we may err from time to time which is used negatively against us for a hidden intention but not the case of corruption as usually alleged by our detractors. We are Nigerians in the service of our country and on oath. We have nothing to gain in corrupt practices", he said.