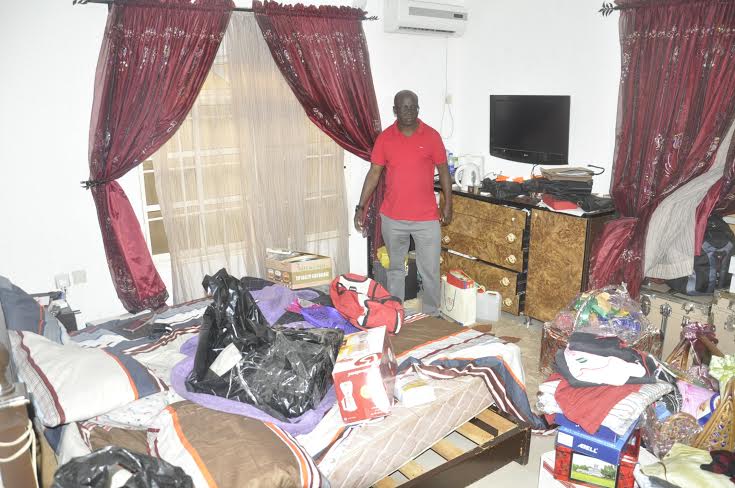 Operatives of the Department of Security Services, DSS, at the early hours of yesterday, stormed the residence of the Abia State Commissioner for Works, Hon. Eziuche Ubani, over alleged stockpile of arms and ammunition.
The operatives who stormed the residence located at Umuobe Ovom along Opobo road, at about 2am, scaled the high-rise fence; beat up his driver and ransacked rooms, but after the search.
Narrating his ordeal to newsmen, Ubani , who was shocked at the attack on his residence, said the DSS accompanied by soldiers who came in six hilux vans, gained entry into his residence by climbing the walls.
"They came and started banging on the door. We waited before we opened the door. They went to the boys' quarter and beat up my driver. They showed me a copy of warrant prepared by the DSS office in Umuahia to search my house. The team was led by one Steven Agu of the DSS, Abuja. They came as if I was planning a coup.
"They ransacked everywhere; my wife valuables and my water tank which is about 30 metres were searched. Even the wheel chair I procured to distribute to the needy was ransacked. When I asked them; they said they were looking for arms, that they heard I was stockpiling arms and training thugs to disturb the peace of the state. That I was planning to assassinate the leaders of APGA, beginning with Dr.Alex Otti and others including Ahamdi Nweke. After the search, they wrote on a piece of paper which we both signed that they found nothing incriminating. After a long time waiting for orders from above, they left. I was held and traumatized for 4 hours."
The former Rep condemned the action of the DSS who he accused of acting on a faceless petition by the All Progressive Grand Alliance.
"Instead of inviting me if a petition was written against me, the DSS stormed my house by 2am. They even said they were annoyed that I didn't open the door for them on time. I think we are sliding into a dangerous period in this country if people like me could be harassed in this way."
He accused the APGA senatorial candidate for Abia Central, Ahamdi Nweke of being behind the petition leading to the invasion of his residence. "Ahamdi Nweke called me alleging that I was planning to him. I was taken aback because I didn't know what he was talking about. This is a premeditated attempt to harm me. I don't have problem with anybody."