Does Buhari Have A Plan To Improve Nigerian Economy?
No (70%, 1,107 Votes)
Yes (30%, 465 Votes)
Total Voters: 1,572
Loading ...
The Assistant Inspector General of Police in charge of Zone 2 command Lagos, Mr Bala Hassan has transferred two suspected cannabis smugglers to officials of the National Drug Law Enforcement Agency (NDLEA). The suspects were arrested with eight hundred and sixty-three (863) compressed parcels of dried weeds that tested positive for cannabis weighing 781.5kgs being smuggled from Ghana by sea at Badagry. They were received by the Seme command of the Agency on behalf of the NDLEA.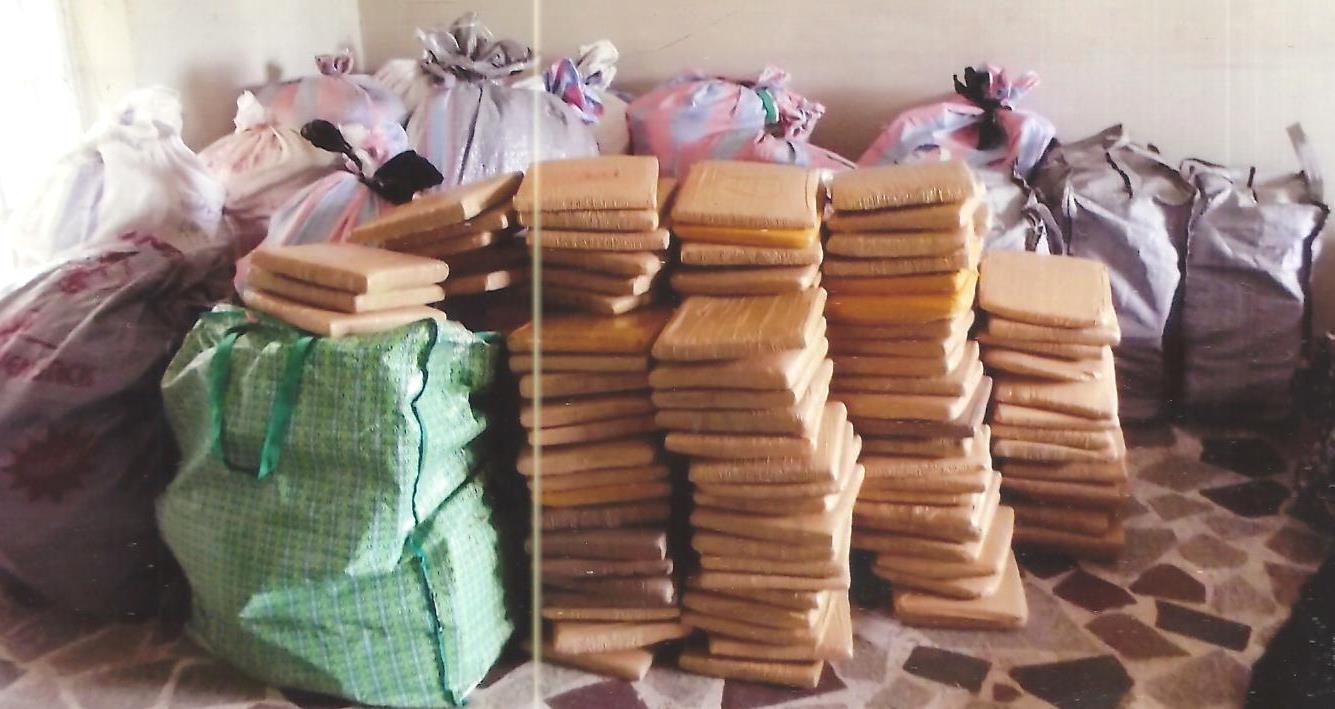 NDLEA commander at Seme Border Command, Mr Udotong Essien while receiving the suspects and exhibits pledged to carry out further investigation on the arrest. The commander gave the names of the suspects as Ismaila Aliyu, 26, a transporter and Edwin Igbokwe, 39, a labourer at Badagry jetty. According to Udotong, "I hereby takeover two suspected drug traffickers with 781.5kgs of cannabis from Zone 2 command, Nigeria Police, Lagos. Other items include one Speed Boat Yamaha engine, three Honda motorcycles and four hundred and eighty thousand naira cash (N480,000) believed to be proceeds of drug business".
The main suspect, Ismaila Aliyu who is a transporter told NDLEA investigators that he imported the cannabis from Ghana for end of year sales. "Most dealers now prefer imported cannabis from Ghana. This consignment was targeted at the end of year sales. As a transporter, I make more money from cannabis importation. The cannabis would have been distributed to dealers in Lagos if not that we were arrested. I have two wives and four children and I take care of them from the money I make from cannabis sales" Ismaila who hails from Lagos State told investigators.
The second suspect, 39 year-old Edwin Igbokwe in his statement explained that his role as a labourer is to carry the drugs from the boat to a vehicle that will convey them from the riverside to town. He is married with a child and hails from Anambra State.
Acting Chairman/Chief Executive of the Agency, Mrs Roli Bode-George commended the AIG Zone 2, Mr Bala Hassan for collaborating with the NDLEA in drug control. "I am pleased with the synergy between the Nigeria Police and NDLEA. The arrest and timely handover of the suspects to the Agency by the AIG in charge of Zone 2, Bala Hassan is commendable and worthy of emulation. This spirit of partnership must be maintained because we are all working towards the peace, unity and development of our country" Roli stated. While assuring that the suspects shall be diligently prosecuted, the NDLEA boss also directed that equal attention be given to land and water patrol by the Seme border command.
The suspects will soon be charged to court.