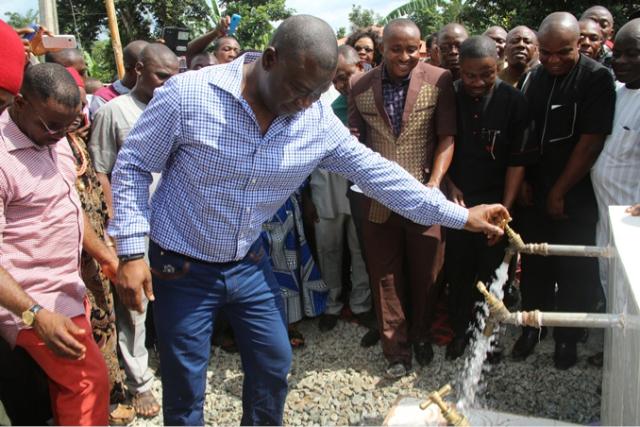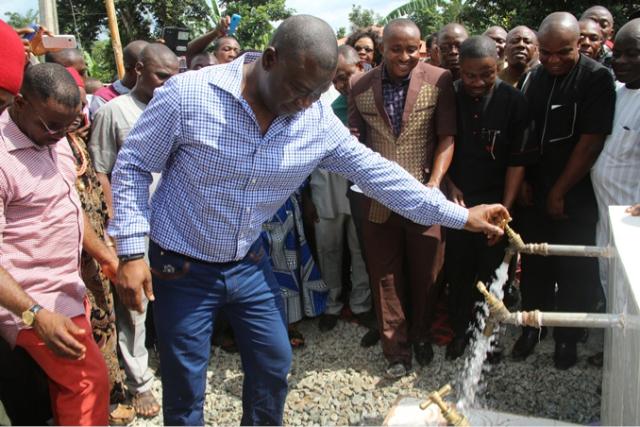 0n 9th of June, 2015 history was made when the emergence of renowned and Distinguished Senator Ike Ekweremadu as Deputy Senate President for unprecedented three consecutive terms sealed the bipartisan nature of 8th Senate. Ikeoha Ndigbo (strength of Igbo people), as he is fondly called got this bipartisan mandate when he won Deputy Senate President Election with 54 votes to defeat his rival Senator Ali Ndume of All Progressive Congress, APC who secured 20 votes out of 74 votes cast by Senators present in the Red Chamber on the day of inauguration of 8th National Assembly. Upon his election as the Deputy Senate President of 8th Senate, Distinguished Senator Ike Ekweremadu assumed his constitutionally empowered duty as Senator representing Enugu-West Senatorial zone on the platform of Peoples Democratic Party, PDP and Deputy President of the Senate. PDP in conjunction with "real" progressive Senators in APC who believes that the independence of legislature as a critical organ of democracy must be protected at all cost,  worked assiduously to ensure the re-election of Senator Ekweremadu as Deputy Senate President to enable the legislative Michelangelo used his hard-earned experiences to maintain the stability witnessed in Red Chamber for the past eight years, which will rub off positively on the Executive arm of government as a result of Ekweremadu's dexterity both nationally and internationally taken into consideration his influential position as Speaker of ECOWAS parliament for past four years, which will in turn help the new President of Senate, Bukola Saraki to learn fast on the job.
The electoral process that enthroned the duo of Senators Abubarka Bukola Saraki of APC and Ike Ekweremadu of PDP as Senate President and Deputy Senate President of 8th Senate, respectively against undemocratic stand of the governing APC, was adjudged not only to be credible and transparent but acceptable to the nation's 1999 Constitution (as amended) and advocates of entrenchment of tenets of democracy to deepen the growth of Nigeria's nascent democratic dispensation. After the elections of principal officers of National Assembly, those who lost out in the unfolding political chess game have sworn to high heavens not to allow peace and stability to return in the Red Chamber by metamorphosing into political scavengers which inspired them to start digging up every flimsy and fictitious allegations against Deputy Senate President, Senator Ike Ekweremadu—who they see as a soft target because of his party and ethnic afflictions;  just to score cheap political points. Having come to terms with the reality of the moment that APC as a party cannot garner the required two-third majority in the Senate to remove Senator Ekweremadu via impeachment; taken into consideration the bipartisan mandate given to him by his distinguished colleagues, the Senate Unity Forum, a political pressure group made of Senators loyal to former governor of Lagos State, Senator Bola Tinubu, and led by Saraki's main rival, Senator Ahmed Lawan has begun a wild goose chase of blackmail and ridicule to intimidate Senator Ike Ekweremadu—who has paid his legislative dues into resigning his hard-earned position in other to pave way for one of them to take up of the post as compensation for their loss.
The Forum recently petitioned the Inspector-General of Police on the purported altering of Senate Standing Rules before the inauguration of 8th National Assembly which ensured the election of Senate Principal Officers via Open Secret Ballot, but the thought-provoking questions racing through the minds of discerning Nigerians are as follows: Can Senator Ike Ekweremadu single-handedly changed Senate Standing Rules as ordinary Senator after the expiration of 7th Senate; few days before he was re-elected as Deputy Senate President without the consent of Senate Presiding Officers of immediate past and present leaderships of the Upper Chamber, Senators and Clerks of National Assembly and Senate, respectively? What advantage does the alleged altering of the Senate Standing Rules supposed to confer on the Deputy Senate President; taking into confidence the wildly accepted mandate given to him by Senators across party lines which would have ensured his victory whether election of Principal Officers was conducted using Open Ballot or Open Secret Ballot? Is APC leadership still contemplating having its way in the Red Chamber by installing Senators Ahmed Lawan and George Akume as Senate President and Deputy Senate President, respectively, who were publicly and vehemently rejected by their regional concusses in the Chamber in favour of Senators Abubarka Bukola Saraki and Ike Ekweremadu, respectively if Open Ballot system was used on the floor of the Chamber? If the same Open Ballot voting pattern they used to conduct the so-called primaries at International Conference Centre (ICC), that further divided the party across tribal lines was used in the Red Chamber on the inauguration of 8th Senate, would Senators Ahmed Lawan and George Akume who left their constitutional roles on the historic day of inauguration of 8th National Assembly for kangaroo meeting at ICC have been elected in absentia?  Why is Distinguished Senator Ekweremadu being ridiculed and intimidated by the Police why Senate President, Saraki who is the Beneficiary-in-Chief of the whole electoral process is busy sipping coffee in his Air-conditioned office? Is this another Shaghari/Ekweme selective prosecution where Dr Alex Ekweme was jailed in Kirikiri on allegation of corruption as then Vice President because of his place of origin while President Shaghari—the then Executive President that supposed to had ordered and authorized all the acts of corruption was observing his holiday in well-furnished mansion in the name of house arrest as interpreted by the same President Buhari-led military junta in 1984? Why has the police not deem it fit to arrest the Clerk of National Assembly who served as the electoral umpire, Why only Ekweremadu if this invitation is not borne out of political witch-hurt being instigated by those whose ambition of expanding their political empire to Abuja suffered great set back by the emergence of duo Senators Saraki and Ekweremadu? Or is there any provision of Nigerian Constitution that barred a Senator from minority party from contesting Senate Presidency or Deputy, of which Senator Ekweremadu has violated to warrant this type of over-hyped allegation and embarrassment?