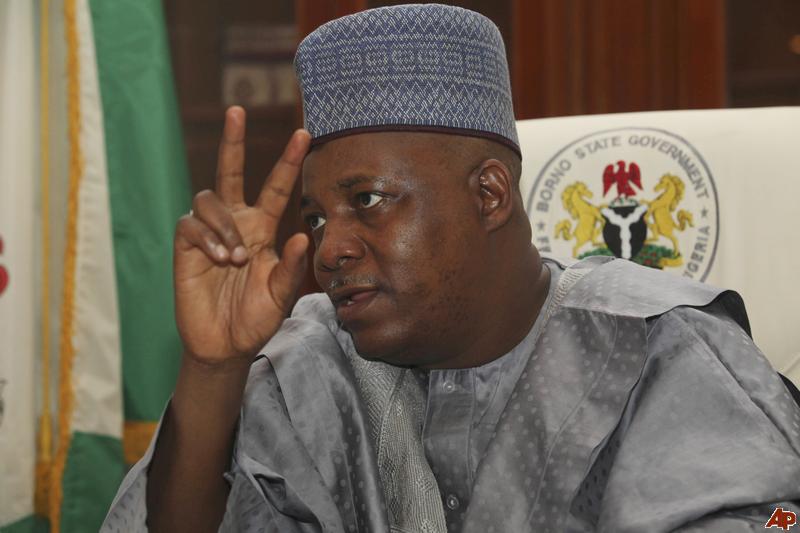 Special Adviser on Communications and Strategy to Governor Kashim Shettima of Borno State, Isa Gusau, has described as "a mischievous joke", an information being circulated by some online media houses in the last one week, claiming that Governor Shettima had nominated Mrs Asabe Kwambura, Principal of Government Secondary School, Chibok for the post of commissioner for education in the State. GSS, Chibok was where over 200 precious daughters of Borno where abducted by members of the Boko Haram insurgents on April 14, 2014 while the girls were in school and Kwambura was Principal as she still is, at the time of the unfortunate incident.
Loading ...
"In the last one week, we have noticed a very strange information being circulated by some online media platforms claiming that Governor Kashim Shettima of Borno State had nominated Mrs Asabe Kwambura, Principal of Government Secondary School, Chibok for the post of commissioner for education. GSS, Chibok was where over 200 precious daughters of Borno where abducted by members of the Boko Haram insurgents on April 14, 2014 while the girls were in school. We completely ignored the story for what it was, a mischievous joke and cheap blackmail that didn't deserve any response as it was mainly 'trending' on the social media.
However, we noticed and most unfortunately, that in recent days, some otherwise respected F.M stations reported such a joke without even making the slightest attempt to cross check with officials in Borno State Government or at least, find out from journalists or media houses that have correspondents resident in Borno State who are in position to have accurate information about the activities of Governor Kashim Shettima and general happenings in the State.
To start with, neither a President nor a Governor nominates anyone as Minister or Commissioner for a particular ministry. The usual practice is to nominate someone as Minister or Commissioner designate for screening by lawmakers and it is only after nominees are approved by lawmakers and administered oaths of offices and allegiance that they are allocated Ministries. In Government procedures across Nigeria, only Special Advisers, Heads of Federal or State Government establishments, commissioners in commissions and certain chief executives are announced by a President or Governor stating their specific responsibilities at the time of their nomination for screening by lawmakers or in some cases, they are out-rightly sworn in without lawmakers' screening, depending on constitutional requirements.
Therefore, to say that Governor Kashim Shettima has nominated Mrs Kwambura as commissioner for education and that she was to undergo screening at the Borno State House of Assembly simply indicates crass ignorance on government procedures and which goes to confirm that the story was indeed, nothing more than a joke that should only be told during comedy shows to entertain audience.
For the purpose of those who might have taken that joke seriously, it can be verified that since the dissolution of the Borno State Executive Council on May 27, 2015, Governor Kashim Shettima is yet to nominate anyone for office of Commissioner. In fact, the first and so far, the only appointments announced by the Governor were those of the Secretary to the State Government, Chief of Staff, media and other aides. It was just on Monday, June 22, 2015 that Governor Shettima swore in these appointees. The issue of Commissioners has not even been tabled. Anyone living in Borno State or following developments there can bear testimony to the sacredness of the facts aforementioned.
It is therefore important to raise questions on the source of that information about Kwambura's nomination and the motive behind it. To my understanding, the aim was merely to create an impression that the Principal of Government Secondary School, Chibok, was being 'rewarded' after the abduction of the schoolgirls. Perhaps the aim was also to create doubts about the abduction or link it to the Governor as was earlier attempted by officials that worked with the immediate past PDP led Federal Government. It is however on record, that former President Goodluck Ebele Jonathan,GCFR, had in May, 2015, constituted a Presidential Fact-Finding Committee on the Chibok schoolgirls with the mandate of gathering facts on the circumstances that led the abduction and related matters. That committee comprised men and women of impeccable character with representatives of different bodies including all security agencies, civil liberty organizations, journalists and international organizations. After weeks of painstaking investigation that included visit to Chibok and Maiduguri, meetings with some of the schoolgirls that escaped abduction, parents of abducted schoolgirls, officials of the school, officials of WAEC in Borno, officials of Borno State Ministry of Education, Heads of security agencies in Borno as well as making content analysis of written correspondences, the Committee had presented its findings to President Jonathan and anyone may as well ask why the previous Government didn't make the committee's report public. Perhaps the Government would have hastily made the report public if Governor Kashim Shettima of the All Progressives Congress, APC or the Borno State Government had been found wanting and that would have scored a major political point in favour of the PDP against its APC opponent. We may wish to recall that all the over 20 members of that committee were exclusively appointed by the former President and he couldn't have appointed those he didn't trust to investigate such a sensitive issue that attracted global attention including virtually leaders of the most influential countries of the world.
The public should therefore disregard that information on nomination of the principal for what it is, a joke".