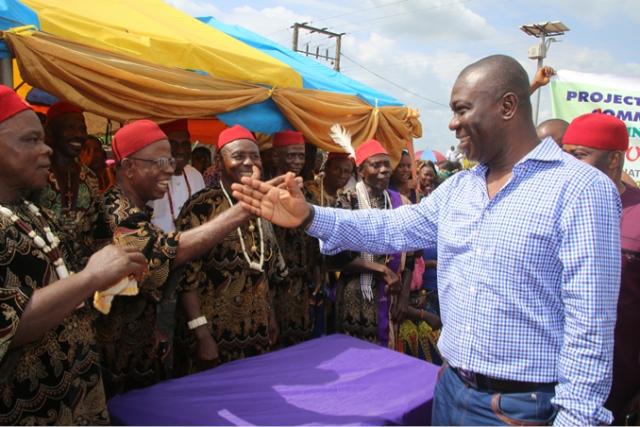 Press Statement:
We, the Igbo youths independent command organ, Ohanaeze Youth Council (OYC) Worldwide, hereby state categorically that against the frolics of those who appear hell-bent on subverting the nation's budding democracy by singling out only the Deputy Senate President Senator Ike Ekweremadu among other leaders who were duly elected by the same Nigerian Senate the same day, because he is Igbo, calling for his resignation or impeachment that the 8th Senate leadership has come to stay.
Lovers of germane democracy must accept the historic emergence of a bipartisan Nigerian Senate made possible by the return of Senator Ike Ekweremadu of the Peoples Democratic Party (PDP, as the Deputy Senate President of the 8th National Assembly, as a beginning point in deepening and advancing Nigeria's democracy. The cacophonous noise of the demoralized Unity Forum in All Progressives Congress (APC) and their ethnic jingoists who thought that with ex-President Goodluck Jonathan's presidential comeback loss that the Igbo are politically conquered have to brace-up for the task ahead having to do with deepening and safeguarding Nigerian democracy and economy, needed to help President Muhammadu Buhari to succeed, which Senator Ekweremadu's Deputy Senate President is essential to.
If the so-called Unity Forum and ethnic jingoists in APC cannot see the involvement of an Igbo man in their belittling political disposition and conquest politics, then they have nothing to offer Nigerians and our democracy. Some of them have even gone to the extent of calling for the resignation or impeachment of the duly elected and constitutionally-backed Deputy Senate Presidency of Senator Ike Ekweremadu just to satisfy their greed and egos. This is not good for our probationary democracy and must be condemned by all lovers of democracy no matter the political divide one may belong. Leaving all other Principal Officers of the 8th National Assembly elected with Senator Ike Ekweremadu the same day to be asking for his (Ekweremadu) resignation or impeachment is an affront to the Igbo nation and must be resisted by the Igbo and lovers of democracy to the last pint of our blood.
This is not the first time that we are having bipartisan political arrangement in Nigeria, especially in National Assembly. In first republic, we have Northern Peoples Congress, NPC, led by Prime Minister Tafawa Belewa; with Rt. Hon. Nwafor Orizu, an Igbo, from another party National Council of Nigeria and Cameroon (NCNC) as Senate President. In second republic, we have National Party of Nigeria (NPN) led by President Shehu Shagari; with Rt. Hon. Edwin Umeh Ezeoke, an Igbo, from another party Nigerian Peoples Party (NPP), as the Speaker, House of Representatives. Unless there are ulterior motives against Igbo man and other Nigerians, whose legislators made the lists of the newly elected Principal Officers of the present National Assembly, the argument by the Unity Forum and ethnic jingoists in APC that official secrecy may be sabotaged by Senator Ekweremadu, who comes from the opposition party, Peoples Democratic Party (PDP) is highly belated, empty and antisocial, because National Assembly does not know party but legislature and legislators.
From the aforesaid bipartite legislature between Igbo and their traditional political ally North, there was never a time the issue of one party sabotaging another at the National Assembly came up, and with the Ekweremadu's Deputy Senate Presidency, we thank our Northern brethren who helped carried the day, for restoring the East –North political alliance that has held past democratic dispensation; against the wishful thinking of those who are not magnanimous in victory.
In view of the above, while we forgave the frolics of the Senator Lawan led Unity Forum and ethnic jingoist in APC as antics of the regionalists who just embraced national politics with bucolic and parochial hangovers, they have to accept that the Senate President Bukola Saraki and Rt. Hon. Speaker Yakubu Dogara's steered 8th National Assembly has come to stay. The disenchanted voices of some-democratic elements that appear hell-bent on subverting the nation's budding democracy ought to wane with the reality that the 8th National Assembly Principal Officers elections has come and gone.
Finally, while the main task is to help President Buhari succeed, through a friendly working relationship between the Presidency and National Assembly. May we warn without reservation that any further attempt to singling out only Senator Ike Ekweremadu from the elected Principal Officers of the 8th National Assembly, either asking for his resignation or impeachment by the ethnic jingoists in APC would be taken by the Igbo as an affront to their nationality and continuation of the pre-independent unfinished antisocial acts and tribal wars against the Igbo tribe that was seen ravenous during last 2015 presidential elections. Leave Ekweremadu's Senate Presidency, alone or prepare for war. Enough is enough!
                 For: OHANAEZE YOUTH COUNCIL, OYC (Worldwide).
Mazi Francis Oji                                                                        Mazi Okwu Okwu               President, OYC                                                                         Secretary BoT OYC        
08033380471                                                                              08035559313