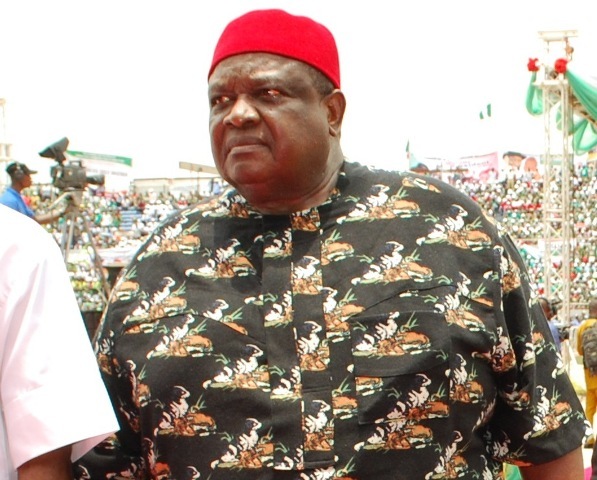 …Begs Okorocha To Include PDP Members In His Govt
Elder Statesman and member of the People's Democratic Party, PDP, board of trustees (BOT), Chief Emmanuel Iwuanyanwu has cautioned the leadership of the All Progressives Congress, APC, in Imo State to be wary of defectors from the PDP into APC, saying if they are not checked, they may wreck havoc in the party the same way they did in PDP.
Some PDP governorship aspirants like Senator Ifeanyi Araraume, Barr. Humphery Anumudu, Chief Jerry Chukwueke, Barr. Bethel Nzimako, and chieftains like Chief Charles Amadi, etc defected to the APC after Buhari was declared winner of the presidential election.
But speaking with journalists in his house in Owerri, Iwuanyanwu described the action of those defecting into the APC as an act of betrayal and disloyal to the party, pointing out that once the coast was clear in PDP, those defectors would beg to return back to the party.
He urged all members of the party in the state to accept the defeat of the party in the recent governorship election in good fate, stressing that as a party, it was pertinent that they must not win at all times when there were other political parties contesting alongside with them.
The PDP leader explained that politics is a game which both victor and vanquished must learn to accept in equal composure, even as he encouraged supporters of the PDP governorship candidate, Rt. Hon. Emeka Iheidoha to embrace the winner in the spirit of good sportsmanship.
"PDP did not lose the election as widely speculated. We fought an incumbent, but unfortunately, we couldn't clinch the Governorship Seat. Though we won 3 Senate Seats and 8 House of Representatives Seats, so we did not lose", he insisted.
Iwuanyanwu informed that the party was presently in a reformation stage in preparation for 2019, adding that the leaders of the party had resolved to re-organize the party to take back leadership of the state by next dispensation.
On the outcome of the supplementary election, the PDP leader said their candidate was still studying the results and will soon make a stand on the matter
The PDP chieftain used the opportunity to call on Governor Rochas Okorocha to carry both members of his party as well as opposition members along during his second term as the state belongs to all and not party
He maintained that opposition was needed in every Democratic Government to strengthen the foundations of such government.
"I hope the governor won't marginalize or witch-hunt those who did not support  him", added.