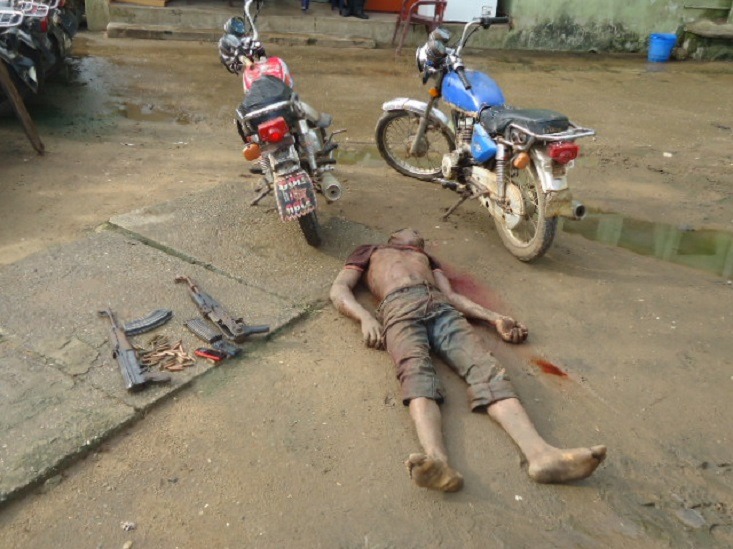 A three-man kidnap gang that operates between Imo and Anambra States was yesterday smashed by the men of Nigeria Police Force, leaving all three suspects dead.
Parading the lifeless bodies of the suspects Tuesday evening, the spokesman of the Imo State Command, Andrew Enwerem (DSP), said the suspects met their waterloo in Nnewi area of Anambra State when they engaged the policemen in a gun battle in their den.
Enwerem disclosed that the suspects had separately kidnapped a man and a woman (Mr. Lazarus Ezuka on April 28, and Mrs. Livina Nwaeze on May 3, 2015) both of Akatta community in Oru East LGA of the state.
He said the suspects established contacts with both families and demanded the ransom of N500 million and N30 million from the man and the woman respectively.
The PPRO disclosed that the anti-kidnapping unit of the command acting on a tip-off stormed the kidnappers' den in Nnewi town in Anambra State Tuesday and were engaged in a shoot out.
He said the suspects fell to the superior fire power of the police officers, resulting to their death, while the two victims were freed.
Narrating their ordeal in the hands of the kidnappers, one of the victims, Mr. Ezuka said it was  like  a hell  in the den of the kidnappers, saying they were starved of food and denied water.
The 60 year-old victim identified one of the dead suspects who he described as Cosmas Odeiegwu as a member of his family.
He thanked the police in the state for saving them from the hands of the kidnappers wjo they said were ready to harm them if no money was given to them.