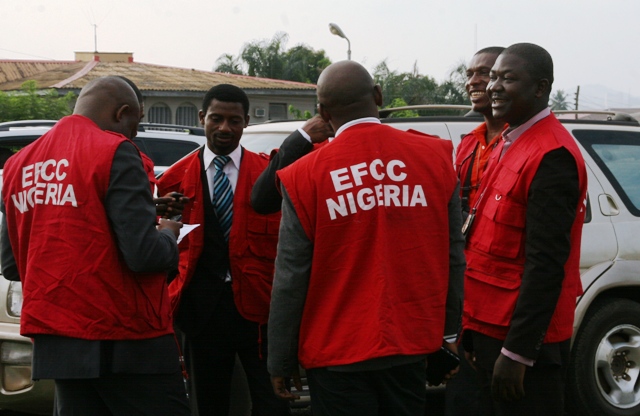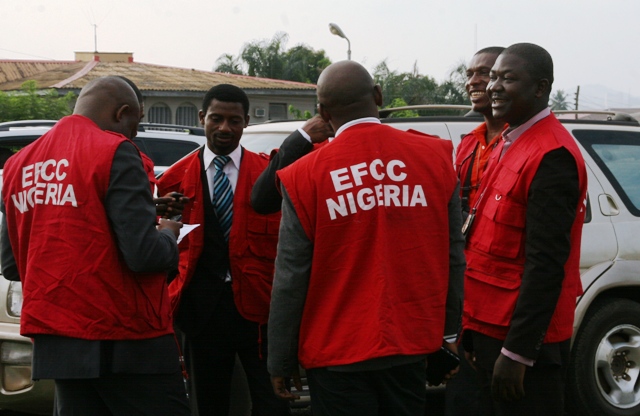 The Economic and Financial Crimes Commission (EFCC) is a Nigerian law enforcement agency that investigates financial crimes such as advance fee fraud (419 fraud) and money laundering. The EFCC was established in 2003, by president Obasanjo, partially in response to pressure from the Financial Action Task Force on Money Laundering (FATF), which named Nigeria as one of 23 countries non-cooperative in the international community's efforts to fight money laundering.
During Obasanjo Administration, under EFCC chairman Nuhu Ribadu, the agency addressed financial corruption by prosecuting and convicting a number of high-profile corrupt individuals, ranging from Nigeria's former chief law enforcement officer to several bank chief executives. By 2005, the EFCC arrested government officials including, Diepreye Alamieyeseigha.
Although Obasanjo was not free from corruption and his government is considered to be one of the most corrupt in Nigeria's history, he laid the foundation for fighting corruption through EFCC.
On August 22, 2005 former Governor of Abia State, Orji Uzor Kalu accused Obasanjo of using EFCC to witch-hunt the opposition. The question I asked was: "Why is the opposition not free from corruption to avoid being witch-hunted?" If you are free from corruption, even if you are from the opposition you will be untouchable by EFCC.
Under President Jonathan Administration, EFCC has been a toothless bulldog. The Acting Chairman of EFCC, Ibrahim Lamorde has been unable to discharge his duty effectively since he is working under a government that commits and promotes corruption with impunity.
When Jonathan prevented the National Assembly from intensively probing the Petroleum Minister, Diezani K. Alison-Madueke and prevented EFCC from prosecuting and convicting her over allegation of corruption including others within his government, I realized that Jonathan institutionalized corruption in his administration.
I even forget at times if EFCC even exists under Jonathan administration because of the insignificant impact it made. He darkened EFCC and kept it in the dark where no one could see it and allowed most of those within his government and circle especially  Diezani K. Alison-Madueke,  Ngozi Okonjo–Iweala , Princess Stella Oduah-Ogiemwonyi  and Abdulrasheed Maina to commit corruption with impunity.
I urge Buhari to revive EFCC and rescue it from a state of being a toothless bulldog to an active, barking and biting dog that will spare no one found to be corrupt so that together we can make Nigeria a great nation.