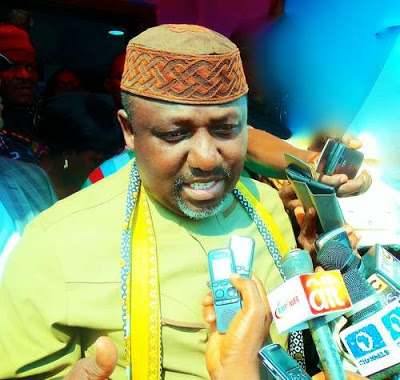 … Says nobody dares rig April 11 election
Governor Rochas Okorocha of Imo State has denied allegation that he slapped a female official of the Independent National Electoral Commission, INEC who refused him from snatching result sheets of the last Saturday's elections.
The governor also denied tearing result sheets at Orlu local government council office of the commission.
Okorocha was alleged to have slapped an official of the Independent National Electoral Commission, INEC, who was returning from Nwangele Local Government Area of the state where she conducted the Presidential and National Assembly elections.
According to a senior INEC official who spoke to journalists on the condition of anonymity, the officials were returning from Amaigbo, Nwangele LGA headquarters but their vehicle was involved in a road accident near Akwakuma Junction and got some of them injured, but the governor accosted them and demanded the result sheets. But their refusal to grant the governor's request led to the governor slapping the collation officer.
But, speaking at a press conference at the state government house yesterday, Okorocha accused the INEC official of lying against him saying he was going to Orlu and saw an accident scene and decided to help out "only for me to find out that two people lay dead at the scene.
"I enquired and was told that a convoy of vehicles hit the Volvo car and killed the people and ran away. I decided to pursue them and met them at Egbeada Road and double-crossed them when they were going with army and DSS officials. I asked them why they killed two men and decided to run away. But they said they were rushing to INEC office to submit results and later.
"Somebody looked into one of the vehicles and saw money. First, it was N250000 and later another N1million. I asked them where they brought the money, the electoral officer for Nwangele said it was his own", he said.
The governor added that he met the collation officer in question in her car and only questioned her.
"There was no question of me assaulting the lady. I didn't slap anybody because I'm not a violent governor. The woman must be a liar for saying that?", he said.
The governor also denied personally tearing result sheets in Orlu LGA of the state, saying it must be party agents who must have done that.
He also decried what he called militarization of the electoral process and accused the PDP of using soldiers as collation officers during the election.
Okorocha  disclosed that the results tendered to INEC in Owerri were not exactly what transpired at the polling booths, calling on the commission to use the results generated at polling booths.
He warned that the sham that took place in the state in the name of election must not repeat itself during the governorship and state assembly elections on April 11, 2015.
The governor also warned the security agents across the state to conduct themselves in a manner that would not suggest that they were bias
52 total views, 3 views today