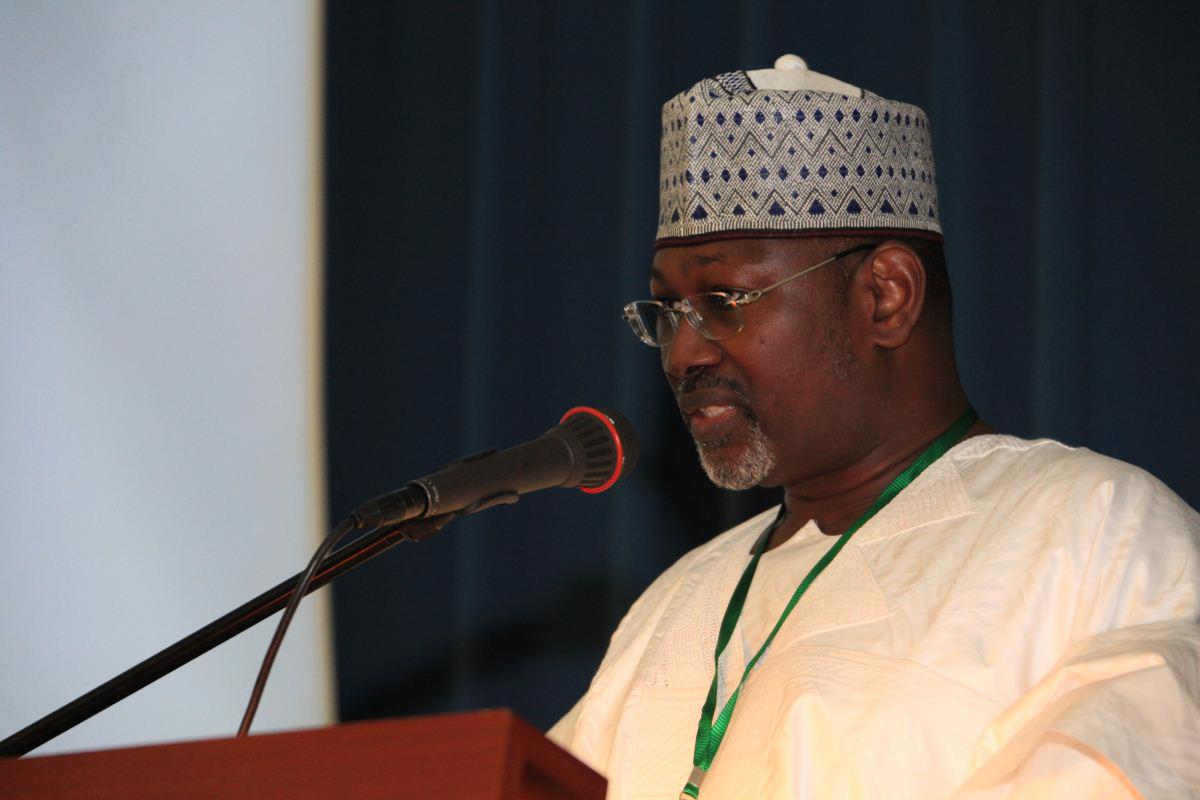 Independent National Electoral Commission Says Heads Will Roll At The Commission Over Electoral Fraud Connivance Just As It Fixed April 25 For Supplemenatry Election In Imo State
Independent National Electoral Commission (INEC), yesterday said it is compiling names of some of its staff involved in electoral rigging during the April 11, 2015 governorship and State Houses of Assembly elections in Imo State.
This is even as the commission has fixed April 25 for the run off of the Imo governorship and House of Assembly elections which were declared inconclusive. Speaking at a press conference in Owerri yesterday, Resident Electoral Commissioner (REC), for Imo State, Dr. Gabriel Ada said that the commission observed with dismay that some of its staff were involved in rigging the election in favour of certain political parties.
He added that such actions were meant to subvert the electoral process and the will of the electorate and as a result, those involved must be prosecuted.
The REC disclosed that the commission had since started forwarding the names of affected staff for prosecution, saying that the position of the INEC was always to achieve free and fair and credible election.
To achieve this, he said, there were guidelines which make it imperative for the commission to be fair to all, and as a result, no staff of the commission would go unpunished for getting involved in the subversion of the electoral process.
An electoral officer for Oru East Local Government Area of the state, Mrs. Emmauela Opara, had disclosed how she was kidnapped and taken to a secret location, by alleged agents of one of the political parties, and forced to enter figures as scores of various political parties that participated in the gubernatorial election.
Making the startling revelation at the INEC headquarters, Owerri, to the Returning Officer, Prof. Ibidapo Obe and other stakeholders who were waiting anxiously for results from Oru East Local Government Area, the electoral officer confessed that she was held hostage at a location in the Council Area "where I was forced to enter fictitious results."
She said that the result that she entered was actually not the original results from the area, adding that "we were intimidated, harassed and attacked by some people from doing our job."
Following the electoral malpractices detected in 24 local government areas, the INEC Returning Officer Prof. Ibidapo Obe declared the result of the gubernatorial election inconclusive. The REC said the number of cancelled votes, totalling about 150,000, were more than the 79,529 margin between the PDP candidate who polled 306,142 and the APC candidate with 385,671 votes.
He said the constitution and the Electoral Act states that if the difference between the cancelled votes was higher than the margin between the first and the second person, elections should be declared inclusive and a run off held.
The run-off election will be held in 256 polling booths across 23 Local Government areas.
Ada also disclosed that supplementary election would hold in six state constituencies on same April 25 to determine who would represent them in the State House of Assembly.
He listed the state constituencies that elections were inconclusive to include Isiala Mbano, Isu, Owerri West, Ikeduru, Oru East and Oguta.
Earlier in a statement released by the commission in Owerri and made available to The UNION, INEC listed 256 polling units as places to hold the election across 23 local government areas of the state that did not include Ahiazu Mbaise, Ideato North, Ideato South and Owerri Municipal.
According to INEC, Aboh Mbaise has three affected units with 5058 registered voters while Ehime Mbano has three units also but with 1473 registered Voters 1473 as well as Ezinihitte which had five affected units and with 2733 registered voters ahead of Ihitte Uboma which has only one affected unit but with 365 registered voters. Others are Ikeduru which had three affected units with 6304 registered voters; Isiala Mbano with 14 affected units and 8937 registered voters; Isu with 14 affected units and 6850 registered voters and Mbaitoli with 38 affected units affected and 20,200 registered voters.
Also, Ngor Okpala has three affected units with 1913 registered voters 1913; Njaba has six units affected with 4046 registered voters; Nwangele has six units also affected but with 2657 registered voters while Nkwerre had three units affected with 1011 registered voters.
In Obowo, INEC gave number of units affected as seven while the number of registered voters stood at 3374; and in Oguta, the number of units affected came to 21 while the number of registered voters is 7409 just like at Ohaji Egbema where the number of units affected was 10 while number of registered voters is 6941.
At Okigwe, INEC gave number of units affected to be three only while number of registered voters was 1540; and at Onuimo the units affected were four while registered voters affected were 1676 while four units were affected in Orly with 2598 registered voters.
At Orsu LGA, INEC found number of affected units to be four while 1453 registered voters were affected while at Oru East, 59 units with 41,776 registered voters were affected same as in Oru West where 12 units and 6365 registered voters were affected. In Owerri North, it said six units with 3672 registered voters were affected while 12 units and 6365 voters were affected at Owerri West.
With these INEC gave total number of affected units to be 256 while 144,715 voters were affected.