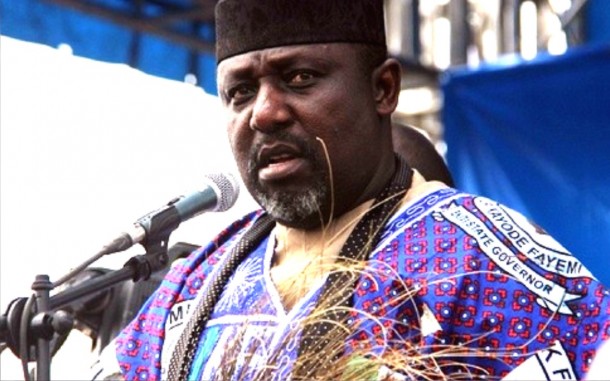 Okorocha has introduced violence in our polity and must be stopped by any mean possible, but, it is that very good that he is receiving all his deeds live and direct before the people.
You know, that Definitely- Surugede is certainly the dance of the spirits, yes, it is the dance of ndi okara obi. What you give is what you get like that of computer's command. Something Okorocha forgets to understand is that no matter how much he reaps from violence and catastrophe, one day, he will be made to receive all he begained for.
It is no longer news for political watchers in Imo state and the nation at large of about Okorocha's tendencies to inciting to violence – what may be news is that his evil practices has gotten to an alarming dimensions and must as a matter of urgency, stopped by every well meaning Imolite.
Okorocha is seen determined to cause chaos and wreck havocs in Imo state should his electoral fortunes be tampered with but must the will of the people be trivialised on the hungry wants of an insatiable lot? With absolute disregard to the the wishes and aspirations of the people – no- Okorocha wants power again by all means!
Okorocha has introduced a culture of politics of envy, hatred, acrimony and bitterness of the highest levels in Imo and we can no longer watch by and see him turning our mother's land into a theatre of absurdities.
His history to power is that of a war monger who rides to power with force and violence. It is well noted- of his historical attitudes to violence.
In Okorocha's political history of failures- starting from his campaign in 2011, we saw in the most brutish and thuggish attributes- how Okorocha  ordered his thugs to attack Horn newspaper. The publisher of the Horn was kidnapped by Okorocha hired thugs for publishing a story they deemed not too palatable for their demigod.
Then, followed the APGA primaries where Okorocha, in his penchant for clinching political powers via violence,  arranged for the beating and intimidation of APGA Excos to dance his tones of shames. Of course, that wasn't enough for him, he ordered for the destruction of APGA properties all in the efforts of securing APGA gubernatorial ticket which they succumbed to.
Okorocha's history of violence stinks to high heavens! For some of us who had thought of having a new regenerated leader in Okorocha was utterly disappointed when he incited his cults of miscreants to throw stones and pure water sachets to then President of the Federal Republic of Nigeria, former President Olusegun Obasanjo who came into the state to campaign for his party's candidate.
Ndi Imo was very unfortunate of having an violent man in the person of Rochas Okorocha as their governor. We deluded ourselves in 2011 in the belief that we were politically more sophisticated than we had been in the past years. We told our selves that a new generation of voters had come of age to oust the former governor but doom befell us as a state when we permitted such a person like Okorocha to define who the type of responsible and responsive leader should be. Okorocha's definition of a good leader would be as objective as a rent bill proposed by a clique of dubious and  greedy landlords.
Okorocha's history of violence spans to a very lengthy scale which I can not be able to going into details here because of space. From his post election violent era to when he was eventually declared winner in most controversial circumstances, he has been a lover and benefited immensely from violence.
Ndi Imo got to know his unlawful and violent characteristics when as a mere governor-elect- started issuing gubernatorial orders like impounding the state government properties and freezing of the state bank accounts with some commercial banks- that was the height rascality and the beginning of Okorocha's lawlessness and unprovoked acts of violence – it took the humane and peaceful dispositions of the administration of Chief Ikedi Ohakim, the then executive governor of the state to maintain their cool during the Okorocha's reign of terror.
And it continued – Ndi Imo was in-to the very of worst of times and we were grossly exposed to Okorocha's many orchestrated violence. Like play like play- Okorocha went berserk in unleashing terror, mayhem and sophisticated acts of greater violence on Imo people.
I recalls with sobriety, His use of the very senior thugs; in their ranks of barbarism- to invade the private  houses of former political office holders who served under ohakim in the guise of recovering of government vehicles, some at some point in time were beaten and striped on the streets of Owerri for serving their motherland.
Ndi Imo watched in the most cynical attitudes, as if under spells- Okorocha ruined the state with violence, corruption and turned my homeland into a bankrupt and lawless fiefdom. He unleashed the most horrible act of violence to the disabled Imolites and Imo widows were not spared- they were beaten to coma for protesting against his reigns of terror and maladministration.
And now, Okorocha having touched virtually all the strata of Imo citizens with unwarranted violence and finally, he has taken his terrorism to the house of God.
With brazen impunity and state powers, Okorocha and his cult of super thugs invaded the historical Ohiri Odenigbo, they desecrated the holy altars of God and beat the Priests of the Owerri Catholic Archdiocese to coma and tearing their priestly robes to shreds.
The feudal insult on our human rights as free citizens of our state aside, one must marvel at a situation in which a man we entrusted our welfare and security into his hands will be our tormentor in charge.
We must therefore wake up to this danger. We must now start making preparation on how to put a stop to him. To put him -to the relegedes- where he truly belongs. These are no means easy task to execute, especially where some members of the state population have been so deceived. But arduous as the task is, Imolites must understand that they have no choice but to address this Okorocha's incessant arts of violence on the good people of our state. All these Imolites who wring their hands in daily anguish on account of the gross inept and violent governance of Okorocha must bestir themselves to the patriotic actions of restoring peace in our state.
But Okorocha must not go unpunished. Karma is going to pay him back on all the atrocities and violence he has subjected us to.
It's a pay back time for Okorocha. He start dancing the Surugede type of dance some years back. You know, that Definitely- Surugede is certainly the dance of the spirits.
This period of time is probably one of my best times, ever, it's a period where the ever merciless Karma has revenged in full force against Okorocha- and now paying him back in his own Nairas.
Over the last few days, Okorocha and his disillusioned supporters have been crying, profuse ones at that- at receiving the same coin with which he went to Ngwo Obiri Odenigbo in 2011— here Ngwo Odenigbo want to sell again and they are screaming NO! Okorocha had unleashed acts of torture and violence to the Catholic Church and her priests and now- the church is now ready to pay him back in his own coins.
O'yes, I will continue to remind us of the history – I know most of you don't like hearing about them- but history to my own definition- is a merciless and uncompromising lad that cares less of whose ox may be gored. History knows not if you re a governor who wants to die in power or not. History is a sidon dey look madam whose facts can neither be altered or changed because of the crying of an unfavored party.
In 2011, Okorocha and his supporters benefited from Owerri Catholic Archdiocese 'politics' and now in 2015, these same people are now questioning why should they involve themselves in 'politics'? Wow! Karma is a merciless bitch!
But I asked them: should we now change the goal post?
Sent from my BlackBerry 10 smartphone.
‎Ambrose Nwaogwugwu is a social critic and the 2014 winner of Imo State Social Media News Reporter of the year. Follow him on Twitter: @Ambrose_247; H/P: +2348151917762