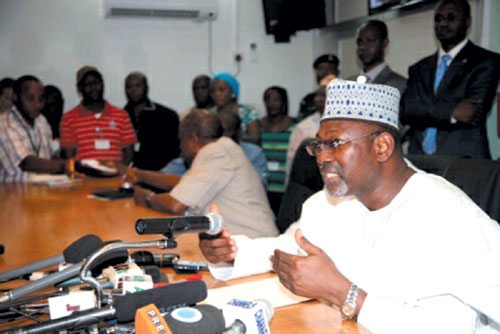 15th December 2014.
Press Release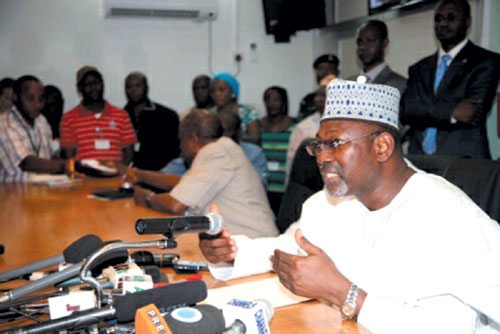 A Federal High Court sitting in Abuja has granted an order to serve contempt of court proceedings to the Independent National Electoral Commission's Chairman, Professor Attahiru Jega for failure to register Democratic People's Congress as a political party.
Justice Gabriel Kolawale who gave the order today also directed Professor Jega to take remedial steps to register Democratic People's Congress   within 72 hours.
The presiding Judge said if the INEC boss failed to obey the order of court within 72 hours,  he should be served with form 49 – notice to show cause why he would not be committed to prison.
He adjourned hearing on the contempt proceedings to 23rd December 2014.
In a motion ex parte dated 1st December 2014, filed by Ezekiel Vem Ofou, the plainliffs Rev Olusegun Peters, Okoye Finbarr, Haruna Abubakar, Abubakar Khalil and Dioji Chidinma, asked for an order granting them leave to serve form 48 – notice of consequences of disobedience to order of court to INEC Chairman, Professor Attahiru Jega by substituted means by delivering it at the Legal Department of the commission's headquarters in Abuja.
The plaintiffs averred that Prof Jega willfully neglected to comply with the judgment of the court delivered by Justice Gabriel Kolawole on 17th October 2014, in Suit No: FHC/ABJ/CS/880.
They prayed the court to grant them leave to serve Prof Jega the contempt proceedings through substituted service as it ways impossible to serve the court processes to him personally.
Justice Kolawole said the application had merit and granted the order has prayed.
The matter was adjourned to December 23.