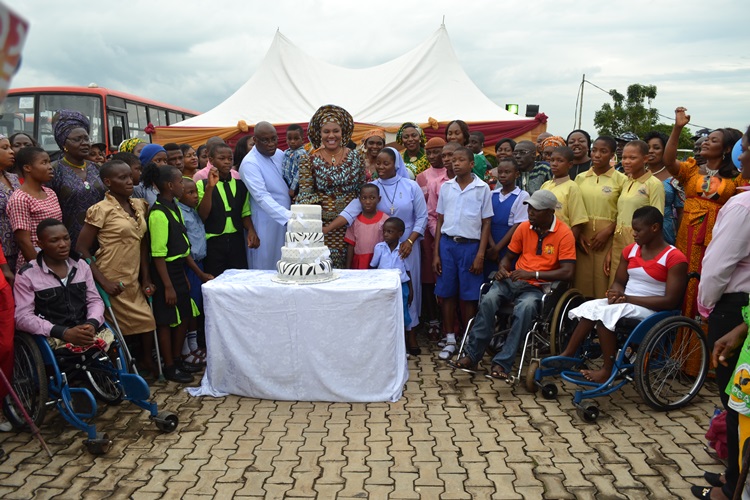 The First Lady of Anambra State, Chief (Mrs) Ebelechukwu Obiano has called on Ndi Anambra, especially the wealthy and people of goodwill, to devote some time and part of their resources to caring and helping the less privileged members of the society, particularly, the physically challenged in order to assist them in conquering their challenges. Mrs Obiano made the call last Sunday evening during a special birthday party for physically challenged persons at the Governor's Lodge, Amawbia.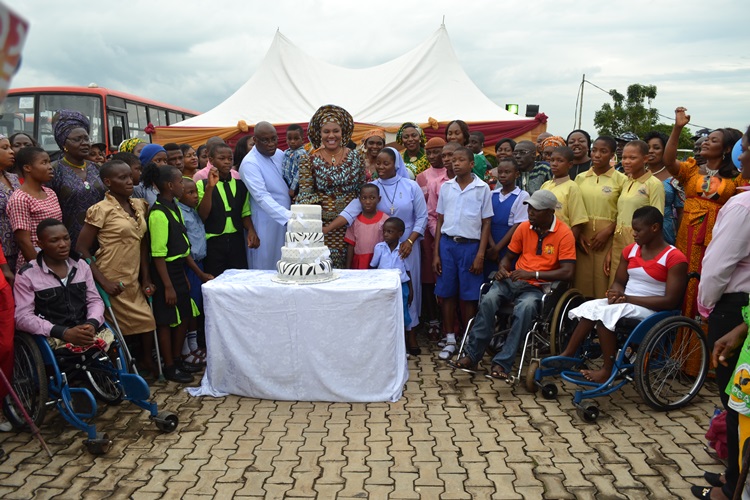 In attendance at the party were persons with disabilities including the blind, deaf and dumb, the visually impaired and paraplegic students. The pupils were mostly from special education centres like Basden Memorial Special School, Isulo and other centres in the state.
Speaking on the occasion, Chief (Mrs.) Obiano said that the party is a gesture to give her guests a sense of belonging adding that nothing compares to the fulfilment she gets from putting smiles on the faces of the less privileged in the society. "I am at home with the people with one form of disability or another – the blind, deaf and dumb, physically challenged", she pointed out.
According to Chief (Mrs.) Obiano "There is not much difference between those of us who have no physical challenges and them, once they are given the necessary support to overcome their challenges. I call on Ndi Anambra, especially the wealthy, to help.  Apart from direct support, such philanthropists can also collaborate with the Caring Family Enhancement Initiative (CAFE), an initiate which I have set up purposely to assist the needy in our society."   
Mrs. Obiano explained that since coming on stream, CAFE has done a lot to mobilize and give support and succour to indigent families as well as the physically challenged, through various programmes and welfare packages. "For instance we have, apart from donating essential items, provided water at Basden Memorial Special Education Centre at Isulo, in Orumba South where the pupils and students were suffering from neglect before we intervened", she added.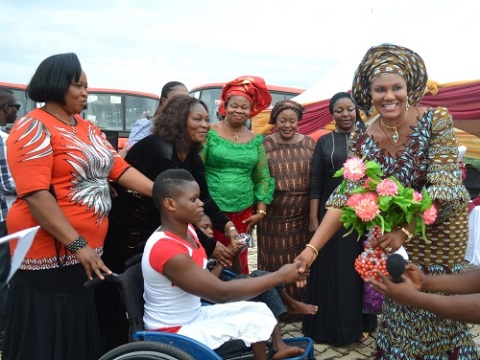 Mrs. Obiano disclosed that in furtherance of the activities of the administration of her husband, Chief Willie Obiano, in the area of skills acquisition, the physically challenged have been co-opted to learn vocations and skills that will enable them become self-reliant and contribute meaningfully to the society. She pointed out that CAFE also encourages and teaches the physically challenged that there is ability in disability, urging them to believe and discover those innate potentials God gave them so as to succeed in life. She also disclosed that "so far CAFE is making tremendous progress and I encourage partnership from individuals and other NGOs towards uplifting the lives of these wonderful children."
The highlight of the party was the cutting of a birthday cake heralded by special song renditions and dance with the students.