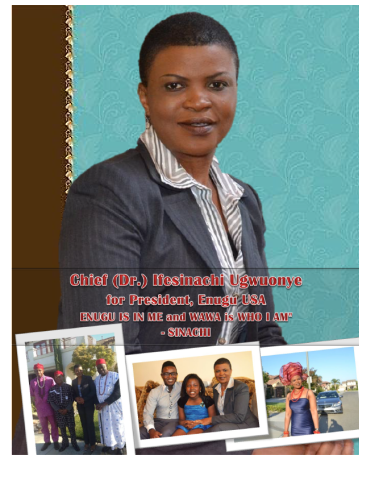 OFFICIAL COMMUNIQUE.
ENUGU ASSOCIATION USA, INC.  HELD A SUCCESSFUL 16TH ANNUAL NATIONAL CONVENTION ON JUNE 27TH-JUNE 29TH 2014 IN HOUSTON TEXAS.
THE THEME:" EMPOWERMENT OF ENUGU STATE THROUGH COLLECTIVE ACTION"
 VENUE:  MARRIOTT HOTELS  WEST-CHASE. 2900 BRIAR PARK DRIVE HOUSTON, TEXAS 77077.USA.
Recap.
The 16th annual Enugu USA national convention was a well attended event with over 200 hotel rooms reserved and taken at the venue of the convention Marriott hotels west chase district. It was one of the most widely attended conventions in EUSA history. People from all corners of the globe were in attendance. Enugu State government under the leadership of His Excellency DR. IHEANACHO SULLIVIAN CHIME was well represented by six commissioners and two special assistants to the governor.
On behalf of the president, Chief/DR. Ifesinachi Ugwuonye and members of the executive team I thank all those who made the convention a huge success. The Friday night reception party showed us the southern hospitality of Texas style and special thanks goes out to the Host Chapter President Hon. Fred Ofordu and all his crew on the ground including the members of Houston Enugu State Organization of Texas. HESO. My magnitude of thanks equally melts out to the Past president of the Association DR. Emma Obiesie, his executive team and the members of the convention planning committee both at the National and chapter level for a job well done.
Saturday morning business session show cased presentation of academic papers by Dr. Ifesinachi Ugwuonye, Hon. Mrs. Joy Chi Chukwu, Hon. Ikeje Asogwa Md/CEO Enugu State housing development authority; Mrs. Francisa Enih ; Hon.Emeka Peter Agbafe and  Hon. Dr. Izu Ogbata  the chief medical director EUSA medical mission.
The afternoon secession featured the question and answer forum by the Enugu state government representatives; Dr. Jude Akubuilo; Dr.Chukwuemeka Ujam; Prof. Ike Mba; Engr. Goddy Madueke; Engr. Ikechukwu Ugwuegede; Hon. Mrs. Rita Mbah. This session focused on the developmental processes going on in the state and the Governors effort to provide enabling environment for small and large skill industries. Prof. Bedford  Nwabueze Umez  was the moderator and our chief  MC. Sir, you did us proud  as always. Thank you Sir.
 Ndi, Enugu State,
 Our gala night 
on Saturday
 was an affluent and ostentatious show of unity and love in action; it ushered in many distinguished ladies and gentlemen. The Igbo Catholic Center saw an unprecedented overflow of friends and well wishers of Enugu State. The keynote address for His Excellency Governor SULLIVAN IHEANACHO CHIME gave a lot of our audience hope that his administration has achieved remarkable progress in the development of all aspect of life in the State. Dr. Jude Akubilo, thank you for that presentation. The fundraising was of no kind in the history of ENUGU USA as donations for EUSA and EUSA medical mission got a huge financial boost.
On behalf of the President  Chief/Dr. Sinachi and Chairman of the Board of Directors  Elder/Sir, Engr. John Agbo we thank Enugu State Governor , Senators, Commissioners, Special  assistants to the Governor, special  guests, friends and well wishers of ENUGU USA. We appreciate all and pray that God will reward you abundantly.
We cannot thank the Chairman Board of directors enough for a well orchestrated conduct of a free and fair election. Princess Blessing Chukwu 'Ezenwanyi' you ended your administration on a very positive note with lots of diplomacy and reconciliations. The election was equally remarkable as there were no losers; we are all winners.
President Sinachi and her team of executives equally applaud our Chief Legal Officer Atty., Kennedy Okoye and his legal luminaries that worked with him namely Atty. Frank Anayo Mba and Atty. Celestine Ude for that wonderful legal maneuvering. We salute you all.
Resolutions:
1). Enugu Association USA, Inc. will continue to partner with ENUGU State Government in areas of common interest, such as our annual medical mission, education, women affairs project, sports, youths and culture.
2)  Enugu Association USA, Inc. is a non- profit organization and as such, will always strive to work in consonance with it's aim and objectives.
3)  All the elected officers will be accountable, responsible and transparent in their duties to Enugu Association USA In
 4)  Enugu Association USA, Inc.'s Constitution and by-laws will continue to be our framework as a guiding principle and must be implemented without prejudice.
 5)  The board of directors will monitor and sanction any member who intentionally and maliciously cyber attacks a person or group of persons negatively on our website or the group forum. However,there shall be no censorship of any sort.
6)  The board equally advice the two fractions of ELOESA to re-register with the association but must locate 100 miles from each other as provided by our constitution. The BOD went further to plead with ELOESA fractions to settle their differences out of court.
Finally, Sinachi, "The President" in her acceptance speech reiterated the need to work with her executive team and the board of directors to usher in "the dawn of a new era" which will foster forgiveness, reconciliation, transparency, accountability and inclusiveness. In addition, she promised to revitalize  EUSA flag ship;  Enugu USA Medical Mission Inc. to be a model institution not only to treat and administer drugs but to educate the rural populace on preventive measures. This will be achieved through conscientious partnership with both state and local government levels. All hands must be on deck, she emphasized. God bless Enugu USA.
  Signed:                                                          .
Chukwuma C Ojukwu.
Secretary General.
Enugu Association USA, Inc.
for:
The National  President
Chief/Dr. Sinachi Ugwuonye.