For your urgent attention. Please read: http://muslimsagainstterror.com/saharareporters-please-take-down-your-boko-haram-recruitment-promotion-video/
SaharaReporters Please Take Down Your Boko Haram Recruitment Promotion Video
Dear Sahara Reporters,
In regards to the video 'Boko Haram Militants Showing Off Weapons "Captured" From An Army Barack Raid'
We advise you to stop being a tool box for the promotion of terror in Nigeria.
When you have sensitive information, send this to the authorities,  both local and international. This material is not entertaining or for  entertainment.
Boko Haram uses you as a medium to send their messages and campaigns of fear to the masses and to recruit and also send secret information to its members.
The media must be intelligent in dealing with the deadly terror.
We have reported your video to Youtube for their action.
Do you even know what was being said in the video you published?
You could not even understand the language to know what material you  were publishing before you published it. This is reckless journalism and of very inhuman standards.
We advise you to put commonsense before profit and prominence seeking. Lives are being lost here.
In whose interest are you working?
There are very important things you should study in this article: "The Media and Government are Nigeria's Worst Terrorists" It can be seen that your irresponsible journalism has now become a threat worse than Boko Haram terror.
We are making this call to you publicly because your crimes are reckless, repetitive and very public.
In the future, screen, edit, filter and choose what you publish and ensure it has protective material for the public consciousness.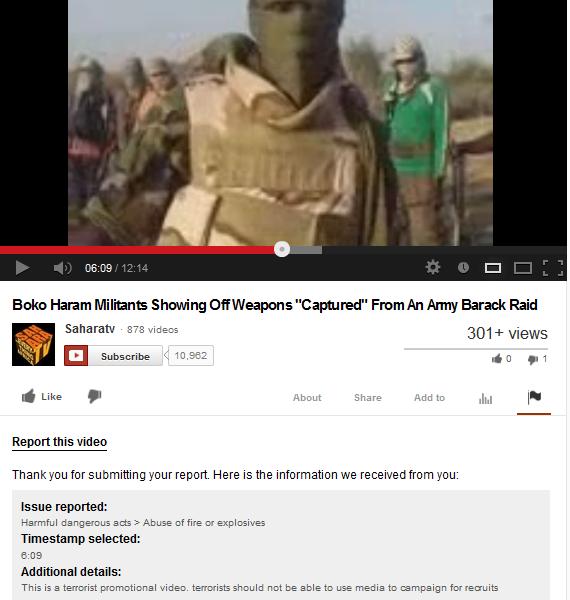 http://muslimsagainstterror.com/saharareporters-please-take-down-your-boko-haram-recruitment-promotion-video/