MADISON — President Barack Obama has widened his lead over GOP presidential nominee Mitt Romney in Wisconsin, according to two polls released Wednesday.
Obama dramatically expanded his lead in the new Marquette University Law School Poll, which showed him leading Romney among likely voters, 54 percent to 40 percent. The same poll showed Obama with a much narrower 3-point lead over Romney in late August, 49 percent to 46 percent, before the two parties' political conventions but shortly after Romney had picked U.S. Rep. Paul Ryan of Janesville to be his running mate.
Another poll by Qunnipiac University, the New York Times and CBS News, also found Obama widening his lead in Wisconsin, which is widely considered a tossup state. Obama led among likely voters in that poll by 6 percentage points, 51 percent to 45 percent. Late last month, the same poll showed Obama with a narrower 2-point lead over Romney, 49 percent to 47 percent.
The Marquette poll surveyed 601 likely voters from Sept. 13-16. It had a margin of error of plus or minus 4.1 percentage points among likely voters.
The Quinnipiac poll surveyed likely voters in three states — Wisconsin, Colorado and Virginia — between Sept. 11-17. It found Romney was running about even with the president in Colorado, while Obama held a 4-percentage point advantage over Romney in Virginia. That poll surveyed 1,485 Wisconsin likely voters with a margin of error of plus or minus 2.5 percent.
Both polls featured live interviewers who called cellphones as well as land lines.
Charles Franklin, director of the Marquette poll, cautioned that the partisan makeup of those polled had shifted from previous polls. He said that in September, Republicans made up 27 percent of the likely voter sample, a decrease from about 30 percent in previous Marquette polls, while Democrats made up 34 percent, up from an average of 32 percent previously. Independents made up 37 percent of the September participants, the same as their average for the year.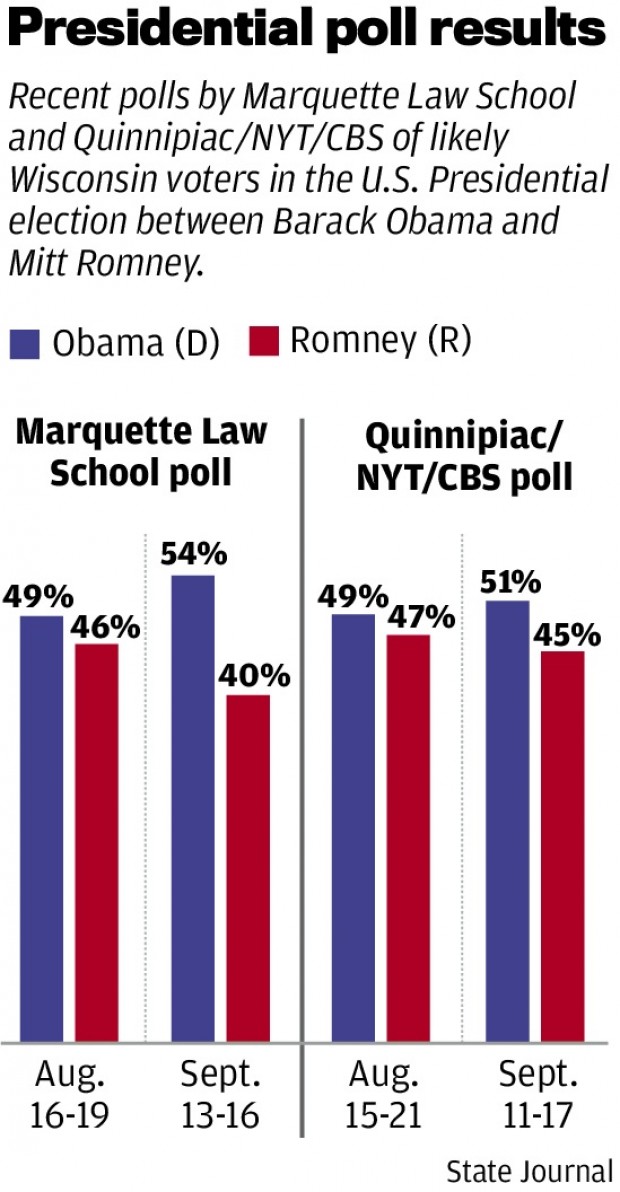 The Democratic polling firm Public Policy Polling (PPP) found Obama leads Romney among likely voters by just 1 point, 49 percent to 48 percent, in its latest poll, released Monday. The PPP poll surveyed 959 likely voters.
"Across the three polls we have seen so far this week, the Obama lead has increased," Franklin said.
The Obama campaign said Wednesday it continues to expect Wisconsin to be a battleground.
"We have always said that Wisconsin will be more competitive than it was in 2008 at the presidential level, and that assessment has not changed," said Gillian Morris, spokeswoman for Obama's Wisconsin campaign. "Neighbor to neighbor, door to door, we have been discussing the clear choice in this election for months and will continue to do so in the final weeks of this campaign."
But Republicans pointed to Obama's upcoming visit to Milwaukee on Saturday, saying it proves his campaign is floundering here.
"President Obama's upcoming visit to Milwaukee, paired with ad buys to be released next week show a President desperate to hang on to a state his campaign once thought was safely in their camp," said Nicole Tieman, spokeswoman for the Republican National Committee. "In November, Wisconsin voters will choose a new direction and prove them wrong."