From Mohammed Nasir Shuaibu BAUCHI
As the warning strike begins the Nigerian Union of Labour (NLC) Bauchi State Coucil has shutdown all Ministry, Department and Agencies (MDAs) in the state.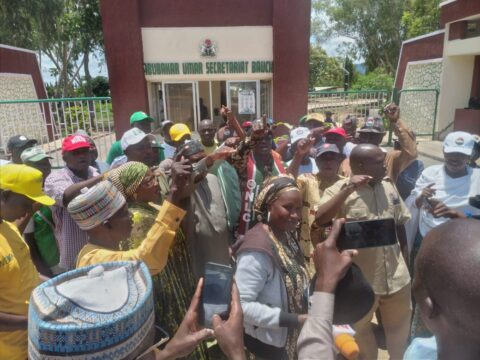 Speaking to journalists, during the monitoring for compliance at the Abubakar Umar Secteriate on Tuesday, the NLC state chairman, Ibrahim Maikudi said the action is in compliance with the directives from their National headquarters.
According to the Labour chairman, the warning strike is aimed at achieving six demanding issues, but said in Bauchi we have two key issues one is the election of Nigerian Road Trasport Workers (NURTW) of Tajuddeen Baruwa where they imposed a different candidate and invidede the headquarters which the NLC asked the authorities to vacate the premises 48 hours which we've succeeded.
Other issues is to show the federal government that we're ready, determined and capable of conducting this strike as you can see, we're given 21 working days and if there's no any response from the government we would shotdow everywhere in the country.
He said the warning strike would continue for two days in all the twenty local government area councils in the State.
Maikudi appreciated the support and cooperation been received from the state government worker's as well as other Union body for sitting at home.
"As you can see we've lock down all MDAs offices in the state capital and the staff have really comply with the directive in places we visited so far.
"We've not encountered any challenges during our operation, we're fully cov by the team of security personnel and journalists.
Interviews with some of the staff at the Abubakar Umar secteriate, Mal Ibrahim Musa and Muhammad Aliyu appealed to the federal government and leadership of the NLC to resolve the issues.
However, visit to some office foud that all the gates were padlock by the Labour Union, also observed that the Trade Union Congress (TUC) where absent during the strike emberking by the leadership of the NLC in State.
Our correspondent report that the NLC members commenced the lockdown enforcement in government offices from the early hours by 8:30 am and terminated at the Abubakar Umar Secteriate complex.