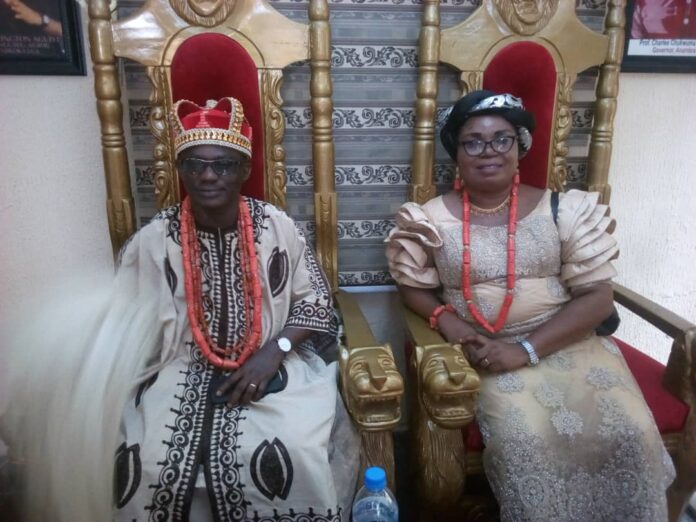 By Chuks Eke
The traditional ruler of Nawfia in Njikoka Local Government Area of Anambra State, Igwe Dan Obelle has expressed concern over the lingering intra communal crisis in the area, saying that the crisis has made his one year on the throne as the monarch very tortuous.
He however thanked God for giving the strength and wisdom to remain on top of the situation as according to him, normalcy has gradually returned to the area as his subjects are now embracing peace among themselves.
 Igwe Obelle who spoke during his thanks-giving special church service to mark his one year in the throne, maintained that the throne he occupied was so hot for him that he nearly abdicated it within the period under review as crises retrogressed development and peace in the area but God being on my side, the situation has been summounted.
"I thank God for everything as peace has finally been restored with my enthronement. For about 20 years  it is in this my throne that the President General, PG, and myself work together, unlike in the time of my predecessor, Igwe Chijioke Nwankwo, who was sacked by the State Government. I am the recognized traditional ruler and I have the state government certificate".
On why he chose to mark his one year on the throne with thanksgiving services in both Catholic and Anglican churches in the area where he also donated handsomely to the downtrodden, the monarch declared: "I don't believe in idol worship. It is fiction but idol worshippers are free to operate as there is freedom of religion and worship but there is no salvation there. People should just believe in God".
"We marked this our one year on the throne at both the Catholic and Anglican Churches in Nawfia. We now look forward to developing our community. We need the presence of the State Government. We delivered Nawfia to APGA during the election," he hinted.
In her contribution, his wife, Lady Dr. Florence Obelle, said: "I am happy that it is one year today that we ascended the throne. We passed through many difficulties but I thank God that we are alive today. We did Thanks-giving last Sunday at Catholic church and today we did at Anglican church, showing that God's hand is in today's event.
"In our town, we have the poorest  of the poor, the less privileged, my heart desire is to empower the women, to organise and raise funds for them to start something meaningful, so that they will take care of their various families.
"It is said that it is better to teach one how to fish than to give him fish. In terms of supporting my husband, I don't have silver nor gold but rather, my knees are always on the ground to pray, I call upon God on his behalf & God answers  my prayers, I give God the glory for that," she hinted.
Pic shows the monarch and wife during the celebration in his palace