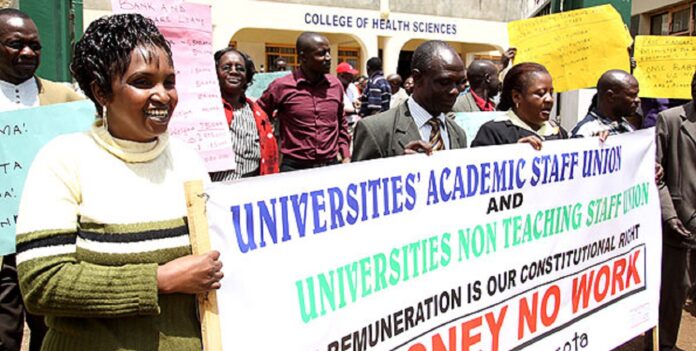 Academic Staff Union of Universities (ASUU) has taken a swipe at the outgoing government of President Muhammadu Buhari, describing it as the worst administration in Nigeria's political history.
The president of the union, Prof Emmanuel Osodeke, gave this remark in an exclusive interview with Nigerian Tribune when he was asked to assess President Buhari's eight-year administration, particularly in the education sector.
He said as far as ASUU is concerned, Buhari's government is a disaster, especially with regard to public education, and ASUU as a union wishes that Nigeria and its people never witness a repeat of such an administration.
He said even though things had been bad in the sector over the years, this outgoing administration is the worst of them all from all ramifications.
Osodeke blamed both the outgoing federal and state governments for the poor record, saying those in the corridors of power did not give the sector meaningful attention but took it with levity as if the sector was unimportant.
Making references, ASUU boss said the successive budgetary allocations to the sector under the outgoing government are not only small but reducing each year.
He explained that the budgetary allocation to the sector in the early year 2020, for example, was in the region of nine to 10 percent of the total budget, but the figure has come down drastically under this administration to something around 4.3 percent as the case of last year.
He described this 4.3 percent budgetary allocation for last year as the worst in the history of Nigeria's educational system.
He said it is more disturbing that even then, part of the money was not released.
Similarly, Osodeke said a government that allowed ASUU to go on strike for eight months without meaningful intervention to address the fundamentals that led to the action even with less than a month to exit, for example, is anti-people and anti-development.