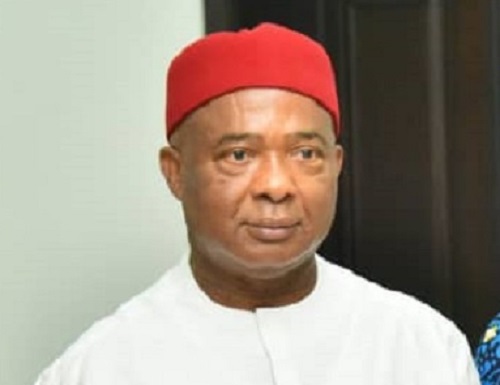 By Joshua Chibuzo Andrew, Owerri
The people of Umuoma Nekede Community in Owerri West Council Area of Imo State have dragged the State Commissioner for Lands, Survey and Urban Planning,Mr. Noble Abiaso Atulegwu,Imo Governor,Chief of Staff to the Governor, Barr. Nnamdi Anyaehie and Attorney-General of the State to the Court over invasion of their Land.
Meanwhile, the Imo State High Court sitting in Owerri on 25th May,2023 welcomed a case with suit no.HOW/475/2023 filed by
Barr. Sony Azuike and Elder Goddy Obiyo as 1st and 2nd plaintiffs on behalf of Umuoma Nekede Community in Owerri West Council Area of the State against aforementioned names as defendants.
However, the presiding judge of the Court, Honourable Justice C.N. Okereke after receiving the suit from the Community's Counsel,Barr. P.E. Chima of Dee Nwigwe(SAN) Chambers adjourned the case to 15th June,2023 for the motion injunction against the defendants.
It would be recalled that after an emergency meeting of Umuoma Nekede Community stakeholders held in Owerri recently, the spokesman and Palace Secretary of the Community,Elder Godwin Obiyo told journalists that Mr. Atulegwu has injected trouble and caused confusion in their community by illegally invading into their Okwuaba farmland,Opupa Eziuzo farmland and Atuoru farmland of Umuezereokam village which has been acquired for building of "3R Housing Estate" through the State Ministry of Housing.
Elder Obiyo narrated that the Housing Ministry had already fulfilled agreement and reached a comprehensive Memorandum of Understanding with their Community and also done with the necessary requirements of the Lands Ministry before Mr. Atulegwu assumed duties as the Commissioner.
He queried who Atulegwu is working for hence Housing Ministry is also of the same present "shared property"Government led by Governor Hope Uzodimma.
He said, "We are comfortable with the earlier conditions and agreements we have with the Housing Ministry. And the M.O.U will benefit our people a lot. Nobody should drag us back. Atulegwu is only trying to perfect his sharp practices only because he hails from Owerri West. He has started selling each form at five hundred naira only to interested buyers claiming that he has parcelleted the land.
"We have held the ground breaking ceremony of the project which Noble Atulegwu didn't attend whereas he was invited. The Housing Ministry had earlier met the three major hosting towns where traditional rites were performed and Power of Attorney to kick off the project was signed.
"Noble Atulegwu has continued to bring thugs to our Community claiming to have mandate of Government to clear the land.
"The earlier MoU between our community and State Government has not been revoked. Where is he(Noble Atulegwu) deriving his powers to enter our land?. And we are sure that he is enjoying backing of some top State Government functionaries,and not Governor Hope Uzodimma himself.
"Because,we are aware that Governor Uzodimma is not interested in land grabbing,and can't spare anybody trying to grab land in his name.
Therefore,we urge the Governor to quickly investigate the Commissioner",he pleaded.