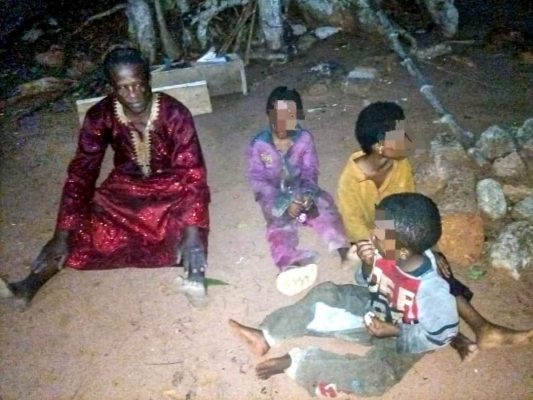 By Izunna Okafor, Awka
…Says Husband Bound Them with Charms, Oaths
One of the eleven wives of the self-acclaimed pastor who recently arrested for allegedly defiling his 12-year-old daughter in Anambra State, has made some more shocking revelations about the atrocities of the husband.
It would be recalled that one 'Pastor' Arinze Obiwenite, a native of Abacha in Idemili North Local Government Area of Anambra, was recently arrested by the operatives of the Anambra State Police Command, in collaboration with the State Ministry of Women Affairs and Social Welfare after he locked up his daughters in a room and was having a canal knowledge of one of his daughters, while also fingering other younger ones, for more than four years.
During the arrest, assorted charms were recovered at the home of the suspect, while many dreading items were also discovered in his compound, including a shallow grave where he used to perform some diabolic sacrifices and incantations before going to his prayer ministry, known as "Trinity Healing Ministry", where he was performing various kinds of miracles.
Also seen in his possession was a long list of people who he has reportedly killed and those who he will still kill. It was also gathered that the suspect had married up to eleven wives, but does not live with any one at the moment.
However, barely one week after the arrest, reports emerged that one of the eleven wives married by the 'Pastor' had revealed some more hidden things about the life and character of the suspect, as well as how they lived with him as wives before he divorced them.
According to her, the husband, when he (separately) married them, compelled each of them to swear an oath not to sleep with any other man; else, they would die. She said the suspect would, thereafter, bear children with the person, after which he would divorce her and marry another wife.
"Once he marries any of us, he will force us to swear an oath with him that no man will touch us again. He will then procreate with us and once he is done, he will send us packing.
"When we begged him to destroy the 'juju' he made us swear on, or for us to be coming to see our children, he would refuse. He will not even consider our feelings as women," she said.
She also lamented that she had not had sex since her husband divorced her for the past four years now and still counting, due to fear of the oath he initiated them into.
She said, "Since that time till now, I have not been able to have sex.
"It is not even the evil things that he does with our children that pains me most but the oath that prevented me from enjoying sexual relationship with anyone since the past four years."
She also explained that her people could not intervene in her with husband case because everyone in the village was afraid of confronting or questioning him.
Howbeit, it was gathered that the suspect, Mr. Obiwenite, was eventually compelled to destroy the oath and set the women free, which he did after muttering some incantations, and told them they were now free from every oath he used to hold them.
Reports say the suspect, who is currently docked at the State Criminal Investigation Department (CID) detention facility in Awka, Anambra State, will be charged to court soon.