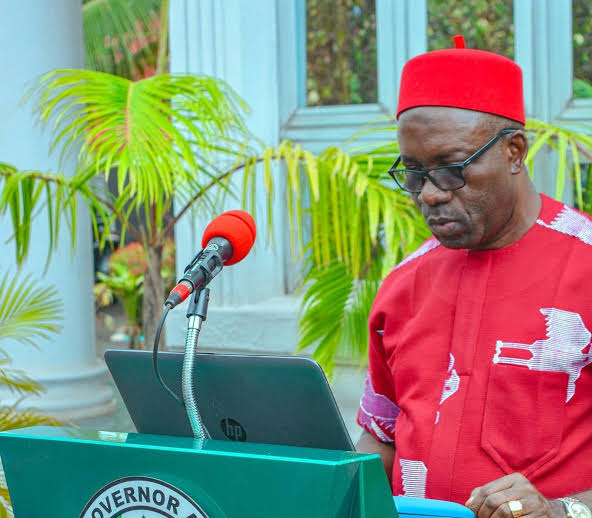 By Izunna Okafor, Awka
Anambra State Governor, Prof. Chukwuma Soludo has removed Dr. Nnamdi Ngonadi as the State's Commissioner for Industry.
This is coming barely one year of Ngonadi's appointment by the Governor and the confirmation of his appointment by the Anambra State House of Assembly.
It would be recalled that Soludo had, some months ago, also suspended Mr. Mbazulike Iloka as the Transition Committee Chairman for Nnewi North, over alleged homicide and the circumstances connected to the death of his wife, Mrs. Chidiebere Iloka.
The suspended TC Chairman hails from the same Nnewi with the now-sacked and replaced Commissioner, Dr. Ngonadi.
Announcing the replacement in a press release to newsmen on Friday, the Press Secretary to the Governor, Mr. Christian Aburime, said the Governor has also approved the appointment of Mr. Christian Chukwudozie Udechukwu as Ngonadi's replacement.
"He replaces Dr. Obinna Ngonadi who previously held forth in that position.
"Following the new appointment, Mr. Christian Chukwudozie Udechukwu's name has been forwarded to the State House of Assembly for confirmation," Aburime said.
It would be recalled that Soludo, few months ago, unbundled the former Ministry of Trade, Commerce and Industry in the state, separating the Trade and Commerce components from that of the Industry.
The Governor also moved the Trade and Commerce sections to his office for supervision, while the now-sacked Commissioner Ngonadi headed the Industry section, now known as Ministry of Industry.
Gov. Soludo, however, did not announce the faith of the replaced Commissioner, as to whether he will to be given new appointment or disengaged permanently.
However, while some people speculate that Dr. Ngonadi may be re-appointed appointed to head the Trade and Commerce Ministry; some others opine that such thing may not happen, given that he hails from the same Nnewi North Local Government Area and the same quarter (Nnewichi) with the newly-nominated replacement, Mr. Udechukwu, which makes it almost impossible to have two of them serve as Commissioners the same time under the same administration.