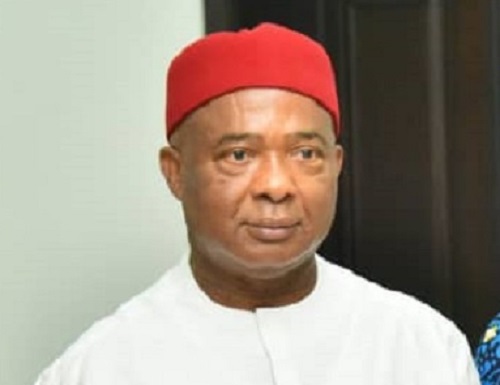 By Joshua Chibuzo Andrew, Owerri
The Imo state chapter of the All Progressive Congress, APC, has advised the National Secretary of the Peoples Democratic Party, PDP, Senator Samuel Anyanwu, to retain his position as the National Scribe of the opposition party, rather than contesting for the Imo state governorship election.
The ruling party, in a press release signed by its state Publicity Secretary, Cajetan Duke, on Friday, told the PDP sole aspirant that, "he will be losing both the National Secretary position and that of Imo governorship and remain politically irrelevant."
The APC was reacting to a statement credited to Senator Samuel Anyanwu, where he urged Imo.people to vote massively for the PDP in the forthcoming November 11 Imo governorship election, describing the Uzodinma-led government as vicious and corrupt.
"Ordinarily, we would have ignored such shallow, loose and miserable comment, but coming from a man like Senator Samuel Anyanwu, whose unpalatable political antecedent is well-known to every Imolites, provotes an advisory response.
"It is indeed regrettable and unfortunate that such a deliberate and deleterious falsehood could be credited to Senator Samuel Anyanwu, who through his political actions and inctions before events of the past few days, had always shared the conviction that Uzodinma's recovery of his stolen mandate from Rt. Hon. Emeka Ihedioha was the best thing to have happened to Imo people.
"Nothing could be more laughable and ridiculous than Senator Samuel Anyanwu, who to the knowledge of every discerning Imolite and Nigeria at large, was himself the biggest misfortune and disaster that happened to the opposition party in Imo state, to now then around and begin preaching for the unity of a house he destroyed its foundation irredeemably.
"It is comical and quite delusional for Senator Samuel Anynwu to describe the APC-led Shared Prosperity administration of Distinguished Senator Hope Uzodinma as, "vicious and corrupt". A government that has zero tolerance for self-aggrandisement and inordinate conservation of public wealth cannot be gainsaid.
"It is on this premise that we wish to advise the National Secretary of the now comatose PDP, one more time, to keep his eyes off Douglas House, and concentrate on the task before him in recovering and rebuilding the party, which he played a significant role in bringing to its ruins.
"All serious-minded Imolites, including those who left a dishonour ticket for him, are aware that there is no vacancy in Imo Government House until 2027. Imolites are not in a hurry to horror recruit another person in place a top scoring utility player, like Governor Uzodinma, who has through diligent prosecution of the 3R agenda of the Shared Prosperity administration, endeared himself to the people of Imo across boards.
"It will be costly and self-inflicted injury that our brother, Senator Samuel Anyanwu, relinquishes his position in pursuit of an obviously unrealistic, unavailable and unrealisable position of Imo state. It does not require a soothsayer to know that PDP as presently constituted in Imo state does not have the capacity and capability to mobilise the Imo electorate as required to successfully defeat the APC.
"Samdaddy we know does not have character, integrity and public appeal to galvanize any meaningful solidarity to match the popularity, credibility and acceptability of Governor Hope Uzodinma.
"His one-man 'Divine Mandate organisation' would have worked for the reelection of Governor Hope Uzodinma had Ihedioha continued with the prosecution of that his failure-bound guber project.
"It however obvious that Samuel Anyanwu, is the biggest manacle on the wheels of the PDP journey to electoral fortune. Such a character is not deserving and worthy to lead our people, not as a governor.
"We therefore urge Senator Samuel Nnaemeka Anyanwu, to refrain forthwith, from making further utterances and mischievous but also utterly un-statesmanly."
It would be recalled that a fellow aspirant of the Imo guber under the opposition party, Emeka Ihedioha, about a week ago, withdrew from the PDP guber primary slated for April 15, 2023, throwing the field open for the National Secretary, who had severally asked him, (Ihedioha) to step down, having been given two opportunities in the past.
Reacting to the claim, the National Secretary who spoke through his Media Aide, Ikenna Onuoha, said that APC has already paved way for the opposition party through its many years of maladministration both in the state as at the federal level.
He said, "i do not expect the ruling to start this early to wail when offcourse party primaries have not been held. Take to the bank, Senator Samuel Anyanwu, is the biggest headache of APC in the forthcoming governorship election in Imo state.
"And to say that APC government is vicious and insensitive is to say the obvious. Tell me, a government that lacks the capacity to protect lives and property, what other name qualifies such a government?
"We will engage them in all ramifications. We will dislodge their rigging tactics and render them powerless. Offcourse, you know that Samdaddy is not a man you will. wish away in the game of politics.
"The Governor himself was recently quoted as saying that the only opponent he Senator Samdaddy Anyanwu and the rest of them. We don't want to start making mouth but when the time comes, they will know that a new Sherrif is in town."