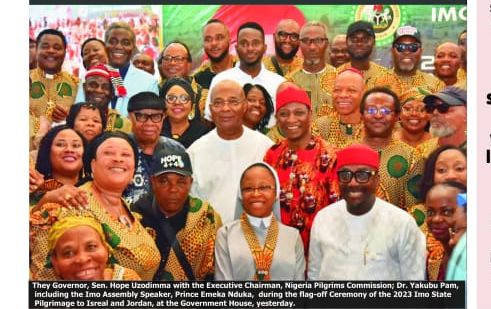 By Ikenna Esogibe and Austin Chikwado
Facts have emerged how the Govenor of Imo State, hope Uzodinma APC led administration has spent thousand of dollars to sponsor his appointees and party members to travel to Jerusalem with a sole charge of praying for his re-election.
This is shortly after the party governorship primary election held in Imo, where the labour party, Peoples Democratic Party and other opposition parties in the state had drawn a line to battle the incumbent Govenor, Hope Uzodinma in the governorship election which shall be conducted by 11 November, 2023 as published by the Independent Electoral Commission (INEC).
A Government house source who pleaded anonymity revealed that the Governor has been so much afraid of his re-election bid, immediately after the party primary elections which produced imo ex- senators who were his colleagues in the national assembly to challenge him in the November 11 poll.
The source revealed that Uzodinma carefully selected categories of people who would be traveling to Jerusalem for the prayers, which includes his sole administrators in the various Local Government Council, commissioners, members of expanded executives, appointees in the local government and boards, and party top executives.
Others are; the pro Uzodinma support groups in the state, pro Government Union leaders and top dignitaries in the state who are key players in his shared prosperity administration.
Meanwhile, Newsmen who visited the Imo State Government House in owerri capital city on Friday had cited not fewer than one thousand people numbering in uniforms waiting for the governor's arrival from Abuja in the noon hours to address them before their departure.
Newsmen however uncovered that some of the lawmakers in the state, who are not happy with the govenor, rejected the pilgrimage tourism offer, while others sent their personal assistants, girlfriends and family members to go on their behalf, while top party officials who's names were not made available to press sold their slots for money.
A very close appointee to the governor who did not want his name on print, told newsmen that the purpose of the Jerusalem visit is to pray for Onwa Oyoko re-election by November 11 poll.
Our source further revealed that the Govenor did not spent not More than six hundred thousand dollars to accomplish the pilgrimage tourism project.
However, Journalists were authoritatively informed that one thousand people have left to Jerusalem on Friday after the governor's address, for a first batch, the second batch will soon leave shortly after the arrival of the first batch.
Newsmen gathered that so many of the Pilgrims who went in proxy of their respective principals had vowed not to return to Nigeria so soon.
Every effort to reach the commission for information, Declan Emelumba, and the chief press secretary to the governor, Mr Uguwuike Nwachukwu was proofed abortive at the press time.