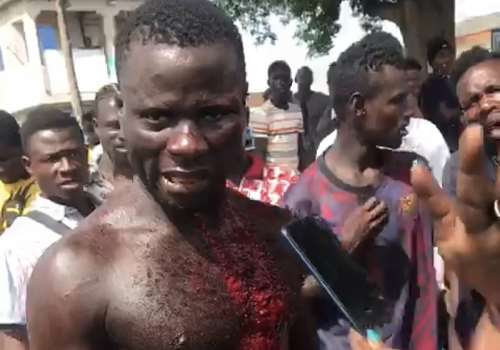 By Chuks Eke
Barrister Chris Ajugwe, a legal practitioner in Onitsha, Anambra state, has described the frequency with which Ndigbo are being attacked and their properties destroyed in Lagos during elections as sheer misplaced jealousy and transfered  aggression.
He expressed grave concern that Ndigbo in Lagos are always at the 'receiving end of any upheaval, whereas they constitute only one fifth of the population of Lagos, while the people of Edo, Delta  and others in South-south geopolitical zone constitute another fifth, just as Middle-Belt and other parts of the northern states constitute a fifth and indigenous Lagosians, and Yoruba people from Southwestern State constitute over another one- fifth, Nigerians from other parts of the country and foreigners complete the scenario'.
Ajugwe who spoke to newsmen in  his law chambers in Onitsha, condemned a situation where Ndigbo are always singled out for  attacks particularly of recent  just because majority  belonged to the Obi-dient movement.
According to Ajugwe, "Attacking Ndigbo in Lagos because of their prosperity and being members of Obi-dients amounts to just missing the point because, without Ndigbo, Peter Obi of the Labour Party, LP would  still have won Lagos with landslide,  with the votes from the people of Yoruba, Edo, Hausa, Ijaw, Ibibos, Tivs, Efiks, Igalas and other ethnic minorities and  nationalities in Lagos who are Obi-dients or pro Peter Obi".
He recalled that before the presidential election, both the Ohanaeze Ndigbo, Yoruba  Afenifere, the Middle-Belt forum and Ijaw National Congress,  South-South  Forum and Nigerians in Diaspora, all  had endorsed Peter Obi as preferred presidential candidate.
He queried: "Why then did Tinubu surrogates singled out Ndigbo for attack and destruction of their properties?"
"The attack is part of  enslavement of the indigenous people of Lagos by desperate non indigenes of Lagos State like Asiwaju Ahmed Bola Tinubu who is from Osun state and his loyalists such as Babatunde Fashola and Babajide Sanwo-Olu who are not indigenes of Lagos".
"Suffice it to say that the mass Obi-dient organic movement is  targeted at uprooting the old order, the politicians and emancipating  the Lagosians, including  Lagos aborigines from enslavement by Ahmed Bola Tinubu and his acolytes like Sanw- Olu".
"The attackers failed to understand that Lagosians from all ethnic groups living in Lagos, including the majority of the Yorubas want to emancipate themselves and their children yet unborn from the stranglehold and enslavement of Tinubu dynasty, using the Obi-dient organic movement as an instrument to realize their mission through the Labour party governorship candidate, Gbadebo Rhodes-Vivour who is billed to win the race come March 18, if INEC does not ring the election again in favour of APC".
On the postponement of the governorship and state assembly elections from March 11 to 18, Ajugwe declared: "Nigerians, particularly the Obidients should embark on massive peaceful protests against the electoral heist by APC and INEC which swung Peter Obi's victory to Tinubu.
Nigerians should realise  that the umpire, INEC, and its chairman,  Mahmoud Yakubu, are active participants on the side of APC in these elections".
"The postponement of the election is just part of the grand agenda which President Muhammadu Buhari, Tinubu, El-Rufai, Sanwo-Olu, other APC governors, etc. had  long planned with Prof. Yakubu as active players  of this infamous, horrific civilian coup d'etat".
"Nigerians have therefore lost faith in INEC chairman. He should resign for killing the sovereign will of the Nigerian electorates who voted massively for Peter Obi and he won the presidential election with  a landslide".
"Nigeria no longer trust the INEC chairman to conduct another election because it might even be worst than the presidential election if left to be presided over by the same biased, incompetent APC appointed Yakubu who has no atom of integrity in him".