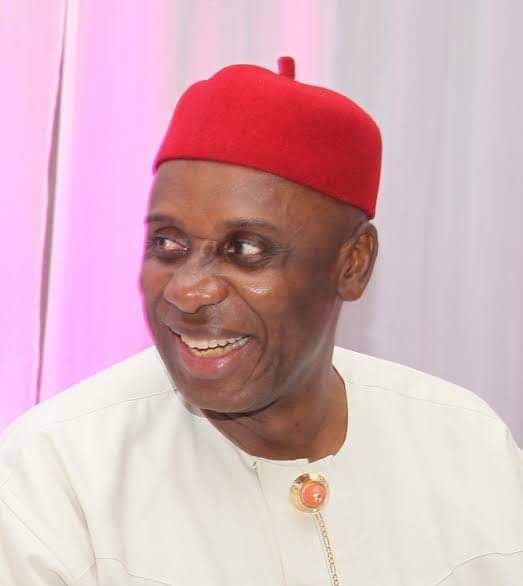 …Says if Amaechi Wants to Work for Atiku, he Will Do So at Daytime not in the Night
Erstwhile National Publicity Secretary of the defunct New People's Democratic Party (nPDP) and Chieftain of the All Progressives Congress, Chief Eze Chukwuemeka Eze has described as untrue claims by the Wike faction of the Rivers PDP that former Transportation Minister, Rt. Hon. Chibuike Rotimi Amaechi is hobnobbing with PDP's Atiku Abubakar and has thrown his weight behind his presidency ahead of Saturday elections.
The Rivers faction chapter of the Peoples Democratic Party Campaign Council (PDPCC) through its Director of Publicity and Communications, Chief Ogbonna Nwuke, had alleged that Rt. Hon. Rotimi Amaechi is a member of the 'wicked' cabal punishing the people with fuel and naira-swap crises and challenged Amaechi to deny that he was not part of persons making life a nightmare for Nigerians.
Nwuke said Amaechi was also working secretly for the PDP presidential candidate Atiku Abubakar, alleging the former Rivers Governor recently reconciled with members of the PDP's Presidential Campaign Council in Rivers.
He said Amaechi had been working secretly and holding meetings with Atiku and others in the cabal to starve the country of the much-needed funds in the name of politics.
Reacting through a statement made available to the media, the APC chieftain and member of APC Legacy Projects Media Team said Amaechi remains one principled Political Leader in whose integrity Nigeria prides and cannot be caught in the web of political cowardice like Gov. Wike who is clearly playing the ostrich in a clear bid to escape culpability for the mountainous legacy of failure his administration is about to bequeath to Rivers State and her people.
Eze recalled that in 2014, when it was a taboo to be associated with General Muhammadu Buhari and opposition interests, Rt. Hon. Amaechi singlehandedly supported Buhari and in 2015 and 2019 respectively when he won as President and sought re-election, Rt. Hon. Amaechi served as Director General of Campaigns and and he played roles of that office with the boldest attention and commitment required for the task at the glare of the world.
The party Chief described as vague the fictitious claim that Amaechi is part of the cabal allegedly responsible for the fuel and cash swap crisis and challenged Ogbonna and his paymaster to furnish Nigerians with detail of roles played by former Governor Amaechi; when and where such roles were played to further the fuel crisis and cash crunch as a weapon against the people.
Eze said there is no validity in Ogbonna's irresponsible assertion and his ill-propelled and unfounded statement is only good to impress Governor Wike who has instructed his likes to use the media to drag Amaechi into their morally irking, fruitless macabre and catastrophic political voyage.
Dismissing claims that Amaechi has pitched tent with Atiku, the party stalwart said although every Nigerian reserve the right to association and the PDP presidential candidate is one man who has made adequate preparations and is stocked with the requisite experience and leadership expertise to take the country out of woods, but Amaechi as a loyal party man has his integrity and public interest to protect and every actions and inactions he has taken are geared towards that direction and particularly guided by the love of country.
Instead of digging up falsehood with which to taint Amaechi, Eze said Ogbonna Nwuke and his likes should encourage their Principal to drop the idea of attempting to run away from the country after the elections and prepare for life outside Brick House. Having messed himself up, Wike should stay and face the reality of what he has done to himself.
Eze sympathizes with Nwuke who is not in the picture that Governor Wike whom he is defending is looking for a way to run away from the county immediately after the elections are over knowing the consequences that await him. Presently Wike's faction of PDP is in disarray and most of her principal actors like Nwanosike, Ariolu and others have reached out to Senator Lee Meaba and pledged to work for Atiku's victory.
Eze expressed sympathy for Nwuke for joining a wrecked ship that is headed nowhere and is sure to sink in a matter of days and wish him a speedy recovery from the deep injuries he will sustain from the impending wreckage.