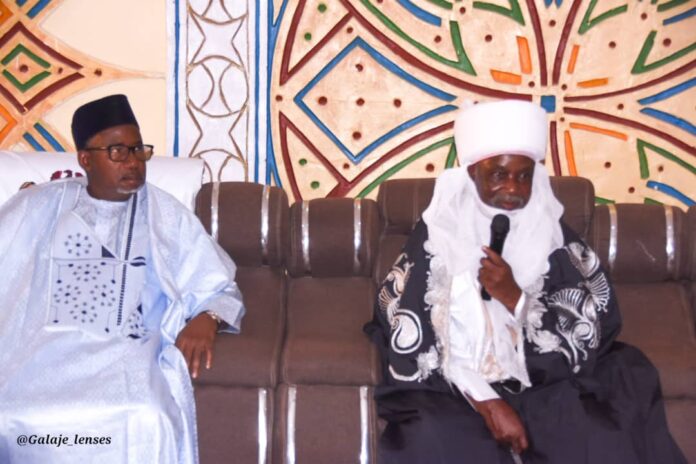 From Ahmad SAKA, Bauchi
District head of Darazo, Alhaji Muhammadu Bababa, has appealed to Governor Bala Mohammed of Bauchi State to construct the road, which links the Republic of Cameroon and neighboring States of Adamawa and Gombe, to Darazo that l would ease the sufferings of travellers especially those going to Kano and Sokoto States for business.
Loading ...
Bababa stated this when he received thr Governor in his Palace in Darazo, He urged the Governor to construct dilapidated Darazo to Basirka bridge road up to Gombe State border with Gombe State to ease the suffering of the people.
He said the dilapidated nature of the road has brought untold hardship to travellers and the people of Darazo' alike.
"From our estimate, from Cameroon people travel to Mubi, Gombe, Dukku and Kano they come through Darazo. Same for those coming from Sokoto to Adawaa they have to pass through Darazo
"The road from Darazo to Dutse Tajarin and Gadan Barssirka Tajarin is terrible and we would be grateful if God gives you the opportunity to construct it"
He urged the governor to also complete the Darazo to Gabchiari road linking the area to communities in Gombe.
The District head thanked the Governor for all his support to the people.of Darazo.
He revealed that the Governor had been supporting the people.of Darazo when he was minister of Federal Capital.Terrritory (FCT).
He said Governor Bala constructed the Darazo Central mosque which was in a dilapidated State for years as FCT minister nine years ago.
The monarch said over 2000 people worship at the mosque today and thanked the governor for the gesture.
He recalled that the Governor also assisted the people.of Darazo when the area was affected by flood that destroyed houses and displaced l hundreds.
"Our governor went from house to house to sympathised with the victims.
"We will never forget. He brought relief materials through SEMA worth N30 million worth :
.
He said the people Darazo are witness that he was the governor that
Governor Bala received a rosy welcome in Darazo town in continuation of his campaign tour of Bauchi Central,
Speaking earlier , the governor said he was at the palace.to seek the royal blessings of the monarch in his quest to seek for his second term reelection.
Governor Bala appealed to the people of Darazo to support his reelection and the election of all the candidates of the People's Democratic Party, PDP, notable Atiku Abubakar and Senator Abdul Ningi assuring that they would deliver dividends of democracy.
From the Palace Governor Bala addressed a campaign rally at Darazo Stadium, where he pledged to do more if elected in to power.
He urged the people of Darazo to elect Presidential candidate of the Peoples Democratic Party PDP, national assembly candidates to enable thr state get more from the Federal Government.