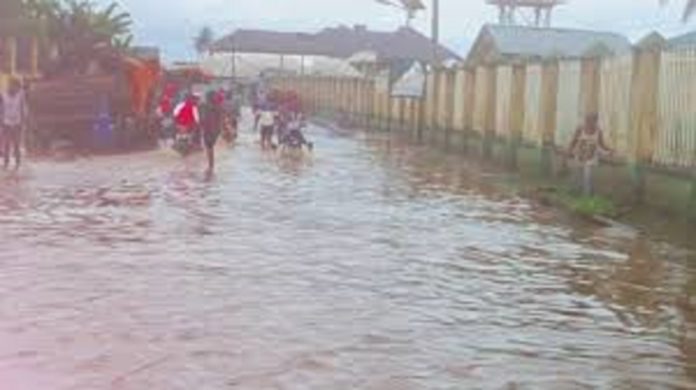 Rabiu Omaku
The revelation by the Project Coordinator of Nigeria Erosion and Watershed Management Project, a World Bank Assisted programme in Nasarawa State, Kwa'kaha Ortoho Jonathan is a cause to celebrate especially by people leaving within the riverine area of River Benue and Niger as arrangement is on the pipeline o install an automated early warning device.
Jonathan in an exclusive interview in his office said the installation of flood automated early warning devices in River. Benue and Niger was aimed at averting human casualties and lost of valuable within that axis
He explained that the automated early warning device if installed would monitor the volume of water in River Benue and Niger through a sophisticated cable.
The Project Coordinator however maintained that already there was an advert for the procurement of the device by only qualify bidders and expert in hydrology with proven experience.
Calling on contractors with expertise in hydrology to take advantage of the oppurtunity,He said the stride is to dictate the intensity of water coming from other sources including the one from Lado Dam in Cameroun.
"Though in the bidding we want a citron device which is the best because it can work on moody water and you know flood comes with moody water",He added.
Appealing to people leaving within the riverine communities to relocate to a saver place pending when water come back to normal level,urging the people of Guto and Aisa communities to be at red alert to avoid lost of lives and valuables.
"We have provision for flood safe camp in Rukubi Obendo,
Ijiwo,Ajimaka,Loko-Aisa and Tunga and there is provision for water and electricity as well tents or collapsible houses which would be fold up in case of emergency".
Kwa'kaha Ortoho Jonathan explained that the State Governor was committed to partner World Bank to construct 6 bridges washed away by flood disaster in the State.
He listed the six collapsed bridges to includes Bokoko,Apawo,Keana,Barikin Abdullahi (BAD) Awonge,Ajaga in Akwanga and Panda bridges.
"The collapsed bridges has excise handful of communities,which are either using canoe to linked to other communities".
When asked about the plans and area of intervention by NEWMAP,The project Coordinator said five Local Government were map out out of the thirteen Local Government ravaged by gully erosion.
"The Local Governments includes Doma,Lafia,Keffi,Nasarawa and Toto respectively".
He opined that the selection of the five Local Government was due to the magnitude of devastation caused by gully erosion".
The project Coordinator stated that a technical steering committee was set up to,complete design of the affected areas taken,set of approval of report which has to do with concrete's,stepping stone.
Kwa'kaha attributed the menace of erosion in the thirteen Local Governments to intensity of rainfall and human activities such as solid mineral exploration.
He explained that World Bank has interest in afforestation programme,Indicating that boreholes would be provided for the watering of trees planted late.
The Coordinator applauded Governor Abdullahi Sule for his dodgedness and quick response to the programme