Advertisement
…Ukpo colluded with police against us – owners of demolished structures
…we're taking possession of our land as ordered by court – Ukpo town union boss
By CHUKS EKE
It was all tears and protests penultimate Thursday for the people of Abba community in Njikoka Local Government Area of Anambra state as they watch helplessly when a bulldozer type of caterpillar demolished perimeter fences round the residential buildings belonging to some prominent citizens of the area.
Among the structures reduced to rubles, according to an eye-witness, included a perimeter fence covering a mansion owned by an Onitsha-based industrial giant and Managing Director/Chief Executive Officer of Best Aluminium Manufacturing Company Limited, Chief Pius Nweke and another perimeter fence covering Chief Nweke's elder brother, Chief Godwin Nweke, a Lagos-based business tycoon which was located directly opposite Nweke's mansion and the fence covering Community Secondary School, Abba which was established in 1982.
A visit at the scene showed that Chief Nweke had already used zink to cover the porousness of his resident, while that of his elder brother's residence and the secondary school were still open as at the time of filing this report.
Commenting on the development, Chief Nweke who spoke to newsmen on phone, said he saw the President-General of Ukpo Improvement Union, UIU, Hon. Vincent Oyiliagu and one Andrew Modili with other Ukpo people leading the bulldozer and escorted by some policemen in three police Hilux vans during the dastardly act.
Nweke who contended that the age-long land dispute between Ukpo and Ukwulu on one side against Abba are still in court, described the act as barbaric and lawless, adding that he was so surprised that some policemen could aid and abet such a dastardly act of impunity in a democratic era, presumably at the instigation or sponsorship of an Ukpo born billionaire businessman.
The traditional ruler of Abba, Igwe Linus Ezenwata, also told newsmen on phone that Abba people are in pains because Ukpo people carried out the demolition exercise believing that they are more superior than Abba people, adding, "they feel we can not do anyting about it.
"According to the monarch, "it is so painful but we are relying on God Almighty and the judiciary to see us throught because I have since discovered that what Ukpo people are doing to is to push us into the wall and see if we could resort to violence like them".
The President-General of Ukpo Improvement Union, UIU, Hon Vincent Oyiliagu, told newsmen when contacted that they merely took possession of their land, having obtained a court order to that effect, claiming that the areas where the fences were demolished were part of Ukpo lands.
On whether area demolished belonged to Ukpo people, and among the land in dispute, Oyi;iagu noted that the disputed land now awarded to Ukpo by the court, traversed from Enugu/Onitsha Expressway down to Oye Abba market.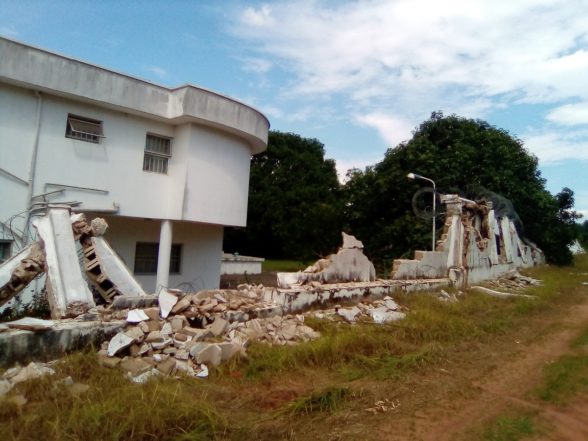 The Divisional Police Officer at Njikoka Divisional Police Headquarters, Abagana, Prince Ugoh Ezejiofor, a Chief Superintendent of Police, CPS, declined to comment on the incident but the State Police Public Relations Officer, PPRO, Haruna Mohammed, said he was not yet aware of the incident.
Haruna who denied that police could not have used caterpillar to demolish anybody's fence since the police have no caterpillar and do not operate with caterpillar, however advised the victims to write a petition to the state Commissioner of Police who will in turn order for a discreet investigations into the allegation.