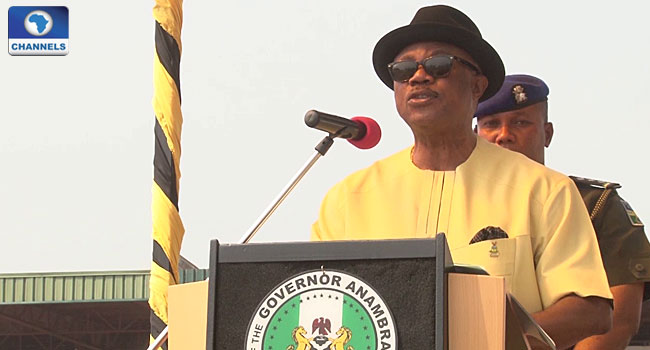 Advertisement
announces 20% extra pay for teachers in hinterland
From Chuks Collins, Awka
The Anambra state governor, Willie Obiano has received members of the State's school Debate team that won the 58th edition of the President's Schools Debating Championship held recently in Abuja.
Anambra State has won the Championship consecutively for the fourth time now.
Advertisement
The governor made a cash donation of one million naira to the students and five hundred thousand naira to their coach. They were drawn from various schools in the State.
Obiano declared that under his watch, Anambra will continue to participate in such activities that can sharpen their academic instincts and expose them to more learning and competitive drive.
Presenting the students, the Commissioner for Basic Education, Prof Kate Omenugha attributed the successes of the students to the clear blueprint the state has for education.
The debate team captains, Oluchukwu Nwafor Godfrey and Emmanuel Nwafor thanked the State government for its magnanimity in sponsoring them to the event.
Gov Obiano also used the occasion to receive in audience the four award-winning teachers from Anambra State who won awards at the 2019 World Teachers Day Celebration and President's Teachers' and Schools Excellence Awards which held recently in Abuja.
He disclosed that his administration has approved the payment of additional 20 percent of their salaries to assist teachers posted to hard-to-reach areas of the state.
The enhanced pay, according to the governor has helped to address the challenge of teachers rejecting their posting to the hinterlands.
He said that consequently his administration's efforts at improving quality of education in hard-to-reach areas of the state has started paying dividends.