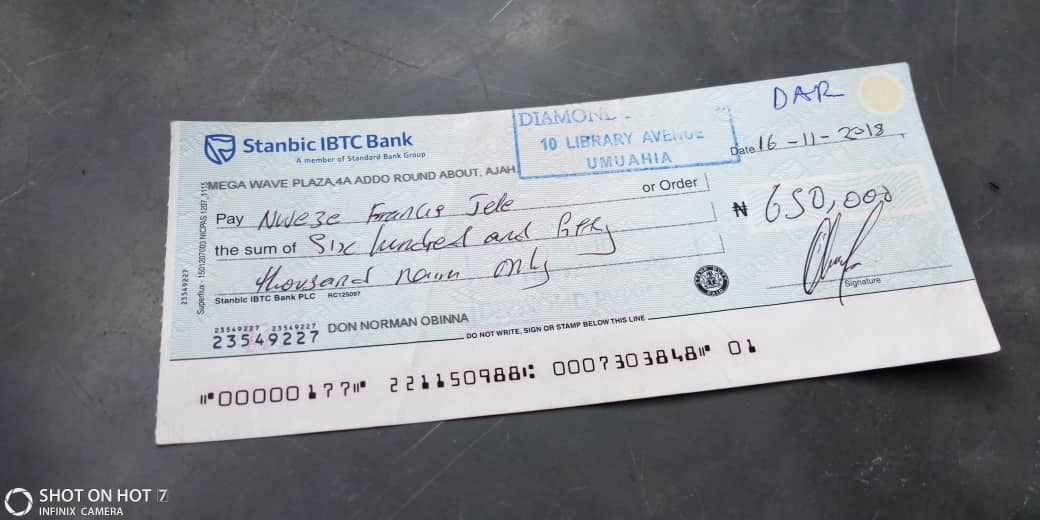 A hotelier, Nweze Francis Jele, has asked a journalist, Don Norman Obinna to stop linking Senator Theodore Orji to the debt he incurred while he lodged at his hotel in Umuahia.
Nweze, who is the owner of Upper Graceland Hotel in Umuahia, said that the journalist, who was a former media aide to Senator Theodore Orji, had incurred N650, 000 while lodging at his hotel for 104 days from July to September 19, 2017.
247ureports.com sighted a cheque of Stanbic IBTC bank dated 16th November, 2018,titled; Don Norman Obinna, with the name , Nweze Francis Jele and N650,000, drawn on it.
Nweze said Obinna issued him a cheque covering the amount owed, but the cheque was not paid when he presented it at the bank, stressing that his appeals to the journalist to pay the debt has not been successful.
The hotelier alleged that rather than pay the debt, Obinna has continued to link his former boss to the debt, insisting that he is being used by the Senator to blackmail him.
The hotelier said; "I want to let the world know that Don Norman Obinna lodged at my hotel for 104 days and incurred a bill of N650, 000. I have evidence of the bills he incurred on monthly basis. I even discounted some amount for him. He issued me a cheque to that amount, but the cheque was not paid when I presented it to the bank. I was embarrassed when I re-presented the cheque at the bank and they asked me to contact the owner.
"I even visited him at the Umuahia Prison when he was detained and he promised to pay me on his release. Since then, all my appeals for him to pay me have fallen on deaf ears. Don Norman Obina wants to ruin my business. The debt he owes has negatively affected my business. Instead of paying me, he has been linking Senator Theodore Orji's name to the debt he owes me.  That Senator Orji owes him and he will pay me when the senator pays him.What has the Senator got to do with the N650,000 debt he incurred while lodging at my hotel? That the Senator is using me to fight him;  I have never met Senator Theodore Orji in my life. I don't know what concerns him with the N650, 000. Don Norman owes me. He should stop linking the senator to his woes and pay the debts he is owing me."
In his reaction, Don Norman Obinna denied issuing the cheque to the hotelier, adding that he has never lodged at his hotel and does not owe him.
He alleged that Nweze is being used by Senator Theodore Orji to blackmail him.
"I have never issued him a cheque. I have never lodged at his hotel and I don't know how he got the cheque claiming that I owe him. How can someone say im owing him N650, 000, what did I buy from him?I know Nweze Francis, but I don't owe him.  Im a guest to hotels in Umuahia, how come I don't owe others?Im not hiding. The signature on the cheque he brandishes is not even mine. Senator Theodore Orji is only using him to blackmail me."
–