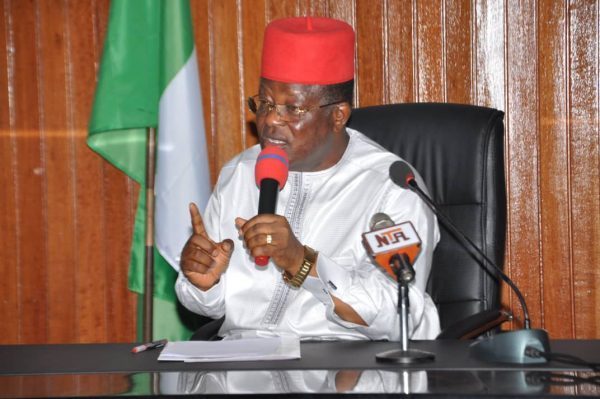 Any doubt about the deep involvement of Dave Umahi of Ebonyi State in the ongoing clandestine Fulanisation agenda (RUGA) in the East and Operation Python Dance in 2017 has been dispelled by the inconsequential hogwash of a statement emanating from his office to the effect that IPOB activities has been banned in Ebonyi State.
Dave Umahi's desperate attempt to turn our beloved Ebonyi State into another vassal state of the Fulani emirate is dead on arrival because IPOB is on the ground and will never allow it. If his Alice in Wonderland dream of becoming Bola Ahmed Tinubu's vice presidential candidate in 2023 is his motivation for coming out against IPOB at this critical moment in our history, then he is not only misguided but deluded. We note that this is not the first time Dave Umahi have sought to impress his Fulani masters by making grand declarations and mouthing gibberish against IPOB. Sometime in mid-2017 he issued a Fatwa against our leader and boasted that IPOB rally would never hold in Ebonyi State. He boasted to his fellow quislings that our leader will be shot at sight if he dares enter Ebonyi State. May we therefore dutifully refer Dave Umahi and his Fulani handlers to the video of our leader smashing through 6 heavily fortified military roadblocks designed to stop him from entering Abakiliki. Mazi Nnamdi Kanu not only entered Abakaliki, he shut it down for a whole day. Even workers in Umahi's office abandoned their work to catch a glimpse of our leader.
Incessant harassment and constant threats against IPOB from Dave Umahi who prides himself as a friend of Fulani herdsmen is childish and undignified. Dave Umahi should ask himself this question, how many Fulani governors have come out against Fulani terror herdsmen or Boko Haram? Yet Igbo governors keep on making a complete fool of themselves in their little competition of who will be the best Fulani slave from the East by attacking IPOB.
Using the Gestapo-DSS and Fulani military to be hunting unarmed IPOB family members at night in Ebonyi state is beneath contempt. No Fulani or Yoruba politician would be that naive as to publicly fight a movement seeking to protect the interest of their people. We the Indigenous People of Biafra (IPOB) and it's leadership worldwide consider it imperative to issue a straight warning to David Umahi that if any IPOB family member goes missing, he and his immediate family will bear the brunt of our anger. He should pray that nothing happens to any Biafran in Ebonyi State or else we will set an ugly example with him.
What we IPOB did in Ebonyi State is to protest against RUGA not the government of Dave Umahi, so we are at a loss as to why he will announce a clapdown on IPOB when we merely carried out the wish of the people. For nearly a month now Dave Umahi has renewed his constant threats of attack on IPOB and destruction of properties belonging to leaders of the movement in Ebonyi because of our resolve to stop the implimentation of Fulani Ruga Settlement throughout Ebonyi State.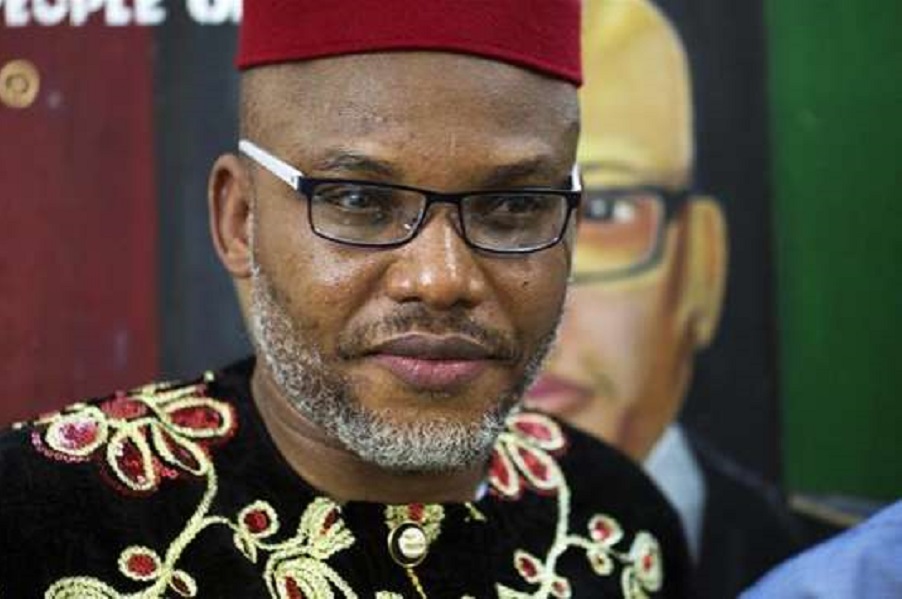 Our priests, fathers, mothers including children, protested in Abakiliki against Fulani Ruga settlement two weeks ago and we remain adamant that we don't want Fulani Ruga settlement anywhere in Ebonyi State.
Our attention has equally been drawn to the unprovoked attacks and destruction of properties belonging to IPOB family members in Ebonyi State especially the recent destruction of Iyimagu the host community of Pinnacle of Grace Assembly Church in Ebonyi State. Since the resoundingly successful outcome of IPOB peaceful protest and rally in Abakiliki against Fulani Ruga settlement in Ebonyi state, Gov Dave Umahi and his government has became paranoid, no doubt acting on the instruction of his Fulani handlers over his deal with those who rigged him into power in February this year.
We are equally on the know that Igbo governors have secretly donated numerous lands in their respective states for RUGA which IPOB will never allow regardless of how many of us die in the process of defending our land.
Significantly, we have not forgotten the role Dave Umahi and other South East governors including John Nnia Nwodo of Ohaneze Ndigbo and some Lagos/Abuja politicians played in 2017 during Operation Python Dance that killed more 200 innocent lives in Isiama-Afaraukwu Umuahia and Abia State in general.
Any traditional ruler, Community leader or President General (PG) who  involves him or herself with this Fulani inspired dastardly act against IPOB will pay dearly for it. The world will bear us witness that we have warned you.
If the combined might of the presidency, Nigerian military, biased media, police, judiciary, treachery from Ohaneze Ndigbo and South East Governors couldn't stop IPOB, who is the dimunitive ex-419er and Miyetti Allah errand boy Dave Umahi to think he can? Dave Umahi and his fellow Fulani slaves in the East must understand that as long as IPOB exists, there will be no RUGA anywhere on Biafran soil.
–
COMRADE EMMA POWERFUL MEDIA AND PUBLICITY SECRETARY FOR IPOB.