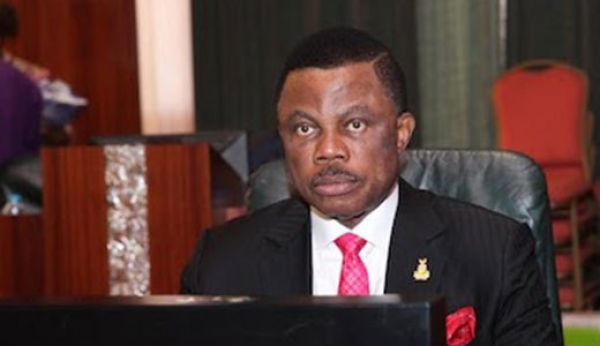 bank manager confirms alert today
may sue antagonists for defamation
said Anambra Govt is on top of the sharing details
From Chuks Collins, Awka
The traditional ruler of Mkpunando -Aguleri, His Majesty Igwe Alex Edozieuno has confirmed that the whole One hundred and fifty million (N150m) being full compensation paid to his community by the state government for the acquisition of part of their communal land was very much intact and accounted for.
He actually confirmed the arrival on Friday -Aug 30,2019 afternoon of the Eighteen million seven hundred and fifty thousand Naira (N18.75m)being the share of his village out of the four constituting villages of the community that shared the money.
Igwe Edozieuno told journalists in his palace Friday afternoon that, "it was just about twenty-five minutes ago that the UBA Plc manager(names withheld) in Awka called to inform me that the money has now been credited into the village's account…"
According to the soft-spoken monarch, "before now the Chief of Staff to the Anambra State Governor had summoned us and I gave out all the details of how the N150 million compensation paid to the community was shared by the four villages of Mkpunando.
The Attorney (Estate Valuer) who handled the transaction from beginning to the end -Messrs A.C. Nwanah of Gilbert Nwanah Associates got thirty percent. This is broken down into his fees -10%; Facilitators -10%; and Stakeholders -10%.
The larger Aguleri community got 20%, while the remaining 50% was shared by the four villages making up Mkpunando community. This amounted to about N18.75m each.
Three other villages have worked out their sharing formula and collected theirs from the Gilbert Nwanah Associates, while I allowed my village to work out theirs until now. All these while the funds had remained in the custody and account of the Attorney -Gilbert Nwanah Associates. It has just been paid it into our UBA Plc bank account and the bank manager called me moments ago to confirm it to me. He was consistent that he was not keeping anyone's money. That his antagonists were merely tarnishing his image in vain.
Edozieuno blamed the attempt to smear his name over the issue on some of those he defeated in the contest to become the traditional ruler of the community who were still bearing grudges. He described the youngmen led by Ifeanyi Iloakasia who marched round the Ama Umuawulu village square and other roads in the community, including the frontage of the monarch's palace with placards in protest over the funds as being misguided.
Iloakasia had while calling for the intervention of the state government noted that they would be left with no other option "but to resort to self-help…", if Gov Willie Obiano fails to do something.
The youths accused the monarch and the Estate valuer of being in an unholy alliance to rip off the community. "The total money paid to the community by the government was N150m, while the commission was N15 million for the facilitators and till date, we have not received anything from the Igwe," the spokesman pointed out.
Edozieuno said he has not ruled out legal option against those who used the matter to attempt to defame him