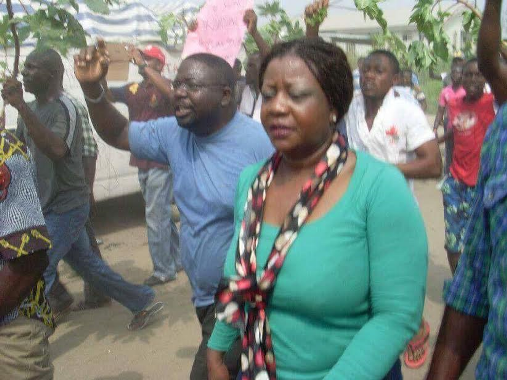 Advertisement
EPISODE 1, PART 2.
I read the pseudo explanation of Lauretta Onochie, the lousy Twitter Aide of President Muhammadu Buhari on revelation of my investigation on her shady and fraudulent ways where she short-changed members of Delta state Buhari Support Organisation and misappropriated their monies.
Lauretta Onochie, in her unconvincing response claimed that she rendered "Full Account" to the BSO and Women and Youth Campaign Presidential Campaign Council of APC, she also claimed that the Local governments Coordinators and other allied groups testified that they received monies and her conduct was so good and further employed diversionary tactics by claiming that some leaders of BSO in the state was pressurising her for their "own share".
However, in all her response, Lauretta couldn't mention name of a SINGLE person that she accounted to or a witness to it, because she never did. Onochie is neither the State Coordinator of BSO Delta nor an Exco but she hijacked monies meant for the group without informing members of Executive, the Coordinator (A retired Air Vice Marshall of repute) nor any of the members of the body.
Onochie CANNOT explain how FORTY FIVE MILLION NAIRA #45,000,000 she received from Dr. Ibe Kachukwu to be delivered to BSO in Delta state was not given them through the Coordinator, the Secretary or any of the Executives or members or deployed for conduct for the Voters Education and Sensitization Program for LGA and Ward Coordinators which held in Asaba.
Onochie did not even inform anyone of the said money until the minister confessed releasing the said sum to Onochie after he was accused of not supporting the group and antiparty activities  by the BSO members before the Vice President Yemi Osinbajo in Delta State.
The Delta State Coordinator personally paid FIVE MILLION NAIRA #5,000,000 into the account of  Lauretta Onochie, a money he painstakingly sourced for to aid the activities of the group but Onochie could not account for it.
Furthermore, the Head of Finance and Administration at BSO HQ Abuja told some stakeholders in a private meeting that she gave Onochie undisclosed sum of money running in millions, a revelation that was corroborated by the Secretary of the BSO State Coordinator's Forum, who is from the Southwest. Yet, Onochie neither informed anyone of these monies nor account for it.
Lauretta Onochie tried to turnaround the table and claimed that BSO leaders in Delta state wanted to "share" the leftover but who are these leaders? Are they nameless? Does it make sense that the State Coordinator that sourced for FIVE MILLION NAIRA #5,000,000 for the group and paid same into Onochie account to fund their activities will turnaround to ask for share? Would he not rather keep the #5,000,000 to himself if he was a crooked like her?
Meanwhile, Onochie CANNOT and has NOT given account of the entire known and unknown monies she received neither did she remit any to the state Exco. Even the local government coordinators (like other Excos) Onochie mentioned DON'T know the total money Onochie collected on their behalf.
Onochie in her fraudulent nature, led thugs to destroy CCTV Cameras that were planted in the state office of BSO and its environs her excuse was that "she hate being watched".  Has she destroyed the CCTV Cameras in Villa, or there is none?
Can Onochie deny these?