Loading ...
Although it is not clear that Joseph Goebbels, the nefarious Reich Minister of Propaganda of Nazi Germany, ever said it, but he is credited with the saying that "If you tell a lie big enough and keep repeating it, people will eventually come to believe it".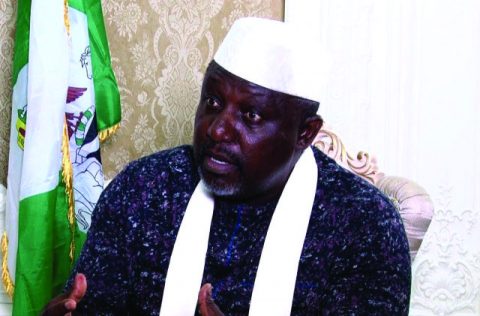 From all indications, Governor Rochas Okorocha and his people never expected the tsunami that hit them on Saturday, March 9, 2019, when they lost the governorship election to Rt. Hon. Emeka Ihedioha of the Peoples Democratic Party (PDP). No doubt, they planned to rig the election to their favour, with all the arsenals at their disposal. We understand what this loss means to them, and Imo people have rather been calm despite the amount of allegations against the government bothering on last-minute financial sleaze and property looting. It is, therefore, provocative that whereas Imo people would want Okorocha to leave quietly with his humiliation, his handlers are putting it to the people that truly what they have endured for the last 8 years has been a Frankenstein monster.
Okorocha's Chief Press Secretary, Sam Onwuemeodo, has since the loss of the governorship election continued to expose his frustration. It is understandable that the government is buffeted from every corner, but Onwuemeodo has been careless in picking his wars. He has allowed himself to be corrupted by the trappings of office, so much that he has not only become arrogant, he has become disrespectful also.
A case in point is his vituperation on Governor Okorocha's former Commissioner for Information and Strategy and the Convener of the Imo APC Restoration Coalition that produced the famous Imerienwe Declaration, Dr. T.O.E. Ekechi, for saying that the Governor's wife, by being over ambitious, contributed "to her husband's downfall." According to the report by Daily Sun newspaper of Tuesday, March 19, 2019, which has gone viral on the social media, Ekechi said that "the problem Okorocha had was that he had a wife that was more ambitious than himself… I don't think there is any Imo person who would not want to know how a full-time housewife acquired so much wealth to build estates that some states cannot build".
Ekechi's comment in the said newspaper report was representative of the comments of the ordinary man on the streets of Owerri and elsewhere in the country and abroad. Not a few people in Imo State wonder how Governor Okorocha's wife acquired the resources to build the large expanse estate in Owerri, just few years after becoming the First Lady of the state. This question is also extended to how she acquired sundry other properties in the state, including the WODDI Wellness Center which now sits majestically on the land hitherto housing the state secretariat at Orlu Road. Also, not a few people in the state had said that it was the Governor's wife that forced the Governor to foist their son in-law, Uche Nwosu, as his successor. And if for nothing, the First Lady's victory dance on the eve of the governorship election, which video has gone viral on the social media, is a clear pointer to what might have gone on in the private. Afterall, does the First Lady not go with the title of "oso di achi" (meaning "the one that rules with the husband")?
Why Onwuemeodo chose to rain invectives on Ekechi, a man whose sandals lace he is unworthy to untie, remains shocking. Perhaps, because the Imerienwe Declaration of Wednesday, March 7, 2018 convened by Ekechi remains the turning point in the galvanization of the people of Imo and beyond to rise and resist Okorocha's impunity? Or is it because, as claimed in some quarters Ekechi knows much more than is being revealed and is set to reveal more if provoked further, hence the desperation to blackmail to shut him up? More shocking is that Onwemeodo tried to drag Ekechi's wife to his vituperation in what may appear his defense of the Governor's wife.
But let us pause and ask this question: did Governor Okorocha make Ekechi, or did Ekechi make Governor Okorocha? Many people who know the Okorocha/Ekechi story think that Onwuemeodo sure does not know what he was saying. Imo people know that Governor Okorocha did not make T.O.E. Ekechi, rather Ekechi was among those who made the Governor, and he should be grateful to Ekechi.
It is, therefore, not true that nobody knew Ekechi before he became Commissioner in the state. Prior to his becoming Commissioner to Governor Okorocha, he was already a successful businessman with interests in media, branding, commodity brokerage, solar energy and consulting. Before becoming commissioner he was  the Chief of Staff to the Minister of Interior, Capt. Emma Ihenacho. In 2010 while in that office he served as Secretary of a 5-man committee (that included Okorocha) President Jonathan had encouraged to fine tune a caretaker committee for the Peoples Democratic Party (PDP) in Imo State. In the course of the 2011 governorship, Okorocha attended meetings at the residence of Ekechi in Owerri in the company of Senator Chris Anyanwu, Professor Anwuka, etc. On those occasions it was Ekechi who picked the bills, including 'welfare' bills of stakeholders who attended, not Okorocha.
Before he became Commissioner, Ekechi and his wife were already being invited to government functions and they were donating millions of Naira to support. For example, as Special Guest of Honour at the First Lady's maiden August Meeting in Ngor-Okpala LGA, Ekechi and wife donated over N7M to the Governor's wife, representing the cost of erecting two houses for indigent widows.  At other instances, he hosted the Governor's wife and her entourage at his palatial home in Imerienwe with parting gifts of solar products exclusively manufactured in Asia for his Alternative Electrics Limited. Again, to the best of my knowledge, Ekechi had already acquired his houses in Owerri, Lagos, Abuja and the ones in his village – including the ones he built for extended family members before he became Governor. Record also shows that he had set up his chain of businesses before becoming Commissioner and since becoming Commissioner or leaving office he has not set up any new major company. On the other hand, Ekechi has said in at least two fora that he is being owed, but has vowed not to call on the Governor or government to pay him. This picture does not look like that of a person hitherto unknown before he became Commissioner or who was made by the Governor after becoming Commissioner. Even then, no body has refuted an earlier claim that it was the Deputy Governor, Prince Eze Madumere who prevailed on him to accept the Commissioner appointment when he would not return from his trip abroad to accept the announcement which was typically made without his consent.
It is now not in doubt that Onwuemeodo, though a huge beneficiary of the Okorocha's government does not know how Okorocha became Governor in the first place. This is the reason he has continued to push reckless falsehood out all the time, thinking that Imo people did not know Owelle Rochas Okorocha before he became Governor. Owelle did not fall from the sky all of a sudden. He came from within us and we know him. Imo people know his story too well, including the story of his becoming governor in 2011. This story is as told by Dr. T.O.E. Ekechi, in an interview with Daily Independent newspaper, last year, and the government has not refuted it.
Recalling how Okorocha became Governor, Dr. Ekechi said: "It is on record that I was a close ally to Rochas Okorocha. As former Chief of Staff to the Minister of Interior, Capt. Ihenacho, we worked with Okorocha at the instance of the former President Goodluck Jonathan. A committee was set up to evaluate Jonathan chances of winning the presidential election in Imo State judging from the activities of the former Governor Ikedi Ohakim who was then in PDP…As secretary of the committee, I became very close to Okorocha. When it became obvious that Ohakim could not win the 2011 governorship election, Okorocha moved to APGA and the committee supported him. I donated my house for meetings to show personal support". And as I was to learn later, he provided robot calls and multi text messaging worth millions of naira at his own cost to support his social media campaign. The next line of this story is that Okorocha became Governor in 2011 with the help of people like Captain Ihenacho, Martin Agbaso, Chris Anyanwu, Dr. Ekechi, etc. Therefore, Ekechi was part of the making of Okorocha. Okorocha did not make him.
In politics, a lot of things happen under cover. Since leaving office as Commissioner for Information and Strategy, not a few journalist in Owerri know that Governor Okorocha had offered several appointments to Dr. Ekechi but he had turned them down on the ground that he "wanted to be free from any constraint to offer the governor genuine and truthful advise". One can therefore understand the pressure on Onwuemeodo to talk back to Dr. Ekechi, bring in his wife in his vituperation in order to impress the First Lady.
Sam is totally ignorant. Truth be told, Ekechi's wife is one of the most beautiful, elegant, well taken care of, satisfied wives around. She does not look like a toad which some people in Government House looked like before they used looted fund to undergo xxx surgery to look trim. Chief Mrs. Tata TOE-Ekechi is healthy, trim and fit as a fiddle and as I have established, she qualifies as Miss Charm even after four children. My encounter with her does not in any way suggest a woman who is assaulted or enslaved in any way. Ekechi's wife is the only wife of an appointee of the Governor that took the advise of her husband to stay away from the government house to avoid "contamination". As a submissive woman she heeded her husband's good counsel and with hindsight she must be thumping her chest now for the course she followed. Thus, while other women were frolicking around and adoring the First Lady, Ekechi's wife chose to stay away for "obvious reasons".
Unknown to Onwuamedo, Mrs. TOE-Ekechi has consistently but politely declined most invitations to Government House functions including the "exclusive" ones.
For a woman who has her first degree in Industrial Mathematics and Masters in Business Administration, who retired voluntarily from the banking industry after a meritorious career in two banks, it is a professional calamity for the CPS to speak about her without properly cross-checking his sources. Since 2013 after retiring from the banking industry, she has been running the Ekechi's business concerns successfully. She is definitely not the kind of woman Onwuemeodo was talking about.
But if Onwuemeodo believes he has a duty to look after the First Lady, I cannot agree less with a source close to an aide of Ekechi, who said: "my boss does not react to social media postings, the CPS should do the right thing and issue a press release and respond to the issues raised by Ekechi in the Daily Sun report and see how this state will wake up to an avalanche of revelations from TOE that will take them to the cleaners – if they are wise they should shut up now".
But the CPS should not shut up. In this anticipated  press release, Imo people should be told "how a full-time housewife acquired so much wealth to build estates that some states cannot build", whether or not the First Lady contemplated succeeding his husband before the Uche Nwosu fall back! Imo people would also "want to know how a land that was originally allocated and earmarked for a state university in Ogboko suddenly became a private university." Not only these, Imo people would want to know about the Imo Air, All One Shopping Mall, IICC, the Okorocha free education expenditure profile and why the Governor has not for 8 years commissioned a project.
It is only when Imo people see an official response to T.O.E. Ekechi's claims that we can take position. For now, we cannot indulge any form of masturbation on very sensitive issues as Ekechi has raised.