Loading ...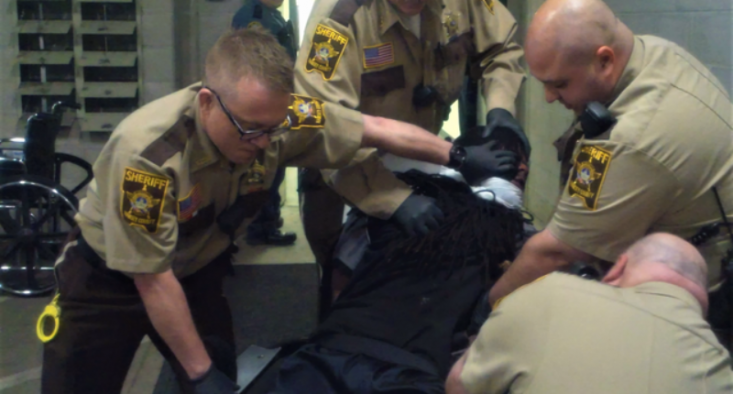 Video of a Minnesota corrections officer kneeing and punching a handcuffed man in 2016 has emerged — but the convicted deputy involved has just submitted his resignation.
The Minneapolis Star-Tribune reported that Ramsey County corrections officer Travis VanDeWiele submitted his resignation last week, concluding a three-year-long debacle that began in 2016.
As the report noted, VanDeWiele was filmed brutalizing Terrell James Johnson in April 2016 and appeared to acknowledge that he was using excessive force in the video that was released earlier this week.
According to his lawsuit, Johnson had been sprayed with a chemical agent prior to the recording of the video, which the report noted was filmed by another, unnamed Ramsey County corrections officer.
Johnson, the Star-Tribune reported, is seen "handcuffed with his pants around his ankles and appears to be unable or unwilling to move."
"He falls to the ground limp, and a spit mask is placed on his face," the report described. "He is then lifted into a wheelchair-like 'transport chair.' VanDeWiele, with his hand apparently squeezing Johnson's jaw in a 'pain compliance' move as described in charges, repeatedly orders him to sit back as Johnson's hips remain raised, then knees him twice in the stomach."
At one point, Johnson accuses the officers of using excessive force, to which VanDeWiele replied, "You ain't seen excessive force yet."
The officer put his hands around or near Johnson's neck, causing the arrested man to respond, "Please don't kill me. Please don't kill me, I'm sorry."
VanDeWiele was charged by the Minneapolis City Attorney in 2017 with two counts of fifth-degree assault, the report noted. He pleaded guilty to disorderly conduct in January 2019, received three months probation and subsequently resigned.
County Commissioners responded to the video after it was publicized, calling it "extremely disturbing" and "Jim Crow-like."
"There is a distrust of systems that should exist to service all of us," Commissioner Toni Carter said. "There is a strand of vicious Jim Crow-like culture that continues to exist even into this very day."
"The conduct of the corrections officer inflicting significant force on an already restrained individual was extremely disturbing, Ramsey County Board of Commissions Chairman Jim McDonough said, adding that it was "even more so when other officers were observing and participating in the restraint of the individual."
You can watch the video depicting excessive police force below:
See Atlanta Black Star's other Tweets