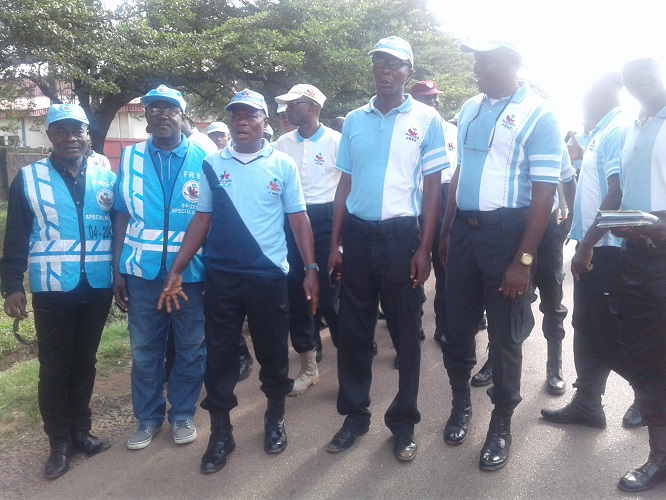 Advertisement
Loading ...
From Msughshima Andrew, Makurdi
The Federal Road Safety Corps (FRSC) on Wednesday said it recorded 324 road crashes and 136 deaths in Benue State in 2017.
The State Sector Commandant, Mr David Mendie stated this in Makurdi during the event to commemorate the "2018 African Road Safety Day and The World Day of Remembrance for Road Traffic Accident Victims."
He said the theme for this year's Remembrance Day is "Roads Have Stories."
Mendie said that a total of 1.5 million people die in road crashes annually worldwide, saying most of these crashes and deaths occure in the Third World Countries.
For the year 2017, Mendie said a total of 1,752 persons were involved in 324 road crashes in Benue. He stated that while 1,616 persons were rescued, 136 persons died in the crashes.
He explained that out of the 324 road crashes, 77 of them were fatal cases leading to the 136 deaths.
According to the sector commandant, use of drugs, overloading, recklessness, over speeding, excessive drinking, drunk driving, bad roads among others were major causes of road crashes in the state.
He advised all road users to be cautious while on the road and to obey all traffic rules to minimize the crashes and deaths.
"We are using this day to sensitize all road users. We have our Cooperate Strategic Goals and our target this year is to reduce Road Traffic Crashes(RTC) by 15 percent and Fatality by 30 percent". So with this public enlightenment campaigns, we are sure that there will be a reduction in the number of road crashes in the state."
Mr Mendie who noted that the rush for Christmas travels would soon begin urged passengers to properly check vehicles before boarding them as most commercial vehicles were desperate to make quick cash even though their vehicles are not road worthy.
"Christmas season is coming and other festivities. Most commercial vehicle operators wants to make many trips because they have seen passengers on ground and their vehicles are not road worthy.
"But because he has seen many passengers, he will put his vehicle on long distance trips. So the passengers should check their vehicles well before embarking on their journeys.
He also urged passengers to warn their drivers against overspeeding saying "Life has no duplicate. We have only one life. Celebrating is continuous celebration and we must not risk our life.
As part of the events marking the day, the Sector Commandant, David Mendie led a motorcade of men and officers of the agency as well as Corps members on a sensitisation march round Makurdi township.