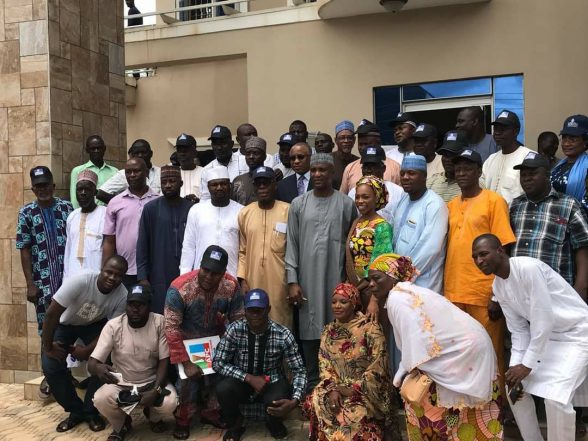 Young Female Social Entrepreneur, Simi Fajemirokun, Announces Bid For Abuja Reps Seat
Simi Fajemirokun, a reputed social entrepreneur, has formally declared her ambition to run for House of Representatives on the platform of the All Progressives Congress in the 2019 elections.
She is seeking to represent the Abuja Municipal Area Council/Bwari Federal Constituency of the Federal Capital Territory. 
Simi made her intentions known on Monday, September 24, at her declaration event at the FCT state party office in Gudu, Abuja which had in attendance key party executives and senior cabinet members of President Buhari's administration including Agriculture Minister, Chief Audu Ogbeh. 
Simi delivered an impassioned speech which advocated the need for greater representation for the people of the FCT at the national level. She said that her platform would fight to "expand the political leadership scope" and ensure that the FCT is better governed, responsive and closer to the people. 
"Abuja is three times bigger than Bayelsa yet they have 9 representatives. Here we have only two. We cannot govern properly if we do not have representation," Simi argued. 
She spoke about her party building activities at the national level during the APC merger, as well as community activities within the constituency especially in the education sector. She made reference to her adoption of a number of schools in the AMAC area through her charitable organisation, Read2Succeed Africa.
Addressing the audience at the declaration, Honorable Minister of Agriculture Chief Audu Ogbeh commended the party members who are encouraging young aspirants, like Simi, to emerge. He committed to working with Simi Fajemirokun to deliver the dividends of democracy to the people of FCT. "From the Ministry of Agriculture, I want to start sitting with you; and I want everyone of you here who has access to land to start making more money."
Simi appealed for the party's delegates to pitch their tent with her and aspire to work together to build an intergenerational platform that represents a new kind of politics that is people driven.  "We are here to serve, and we are here to bring government closer to the people" she said. "Let us send a message from the FCT to Nigeria that an entire generation has found its voice and that we are not too young to run."