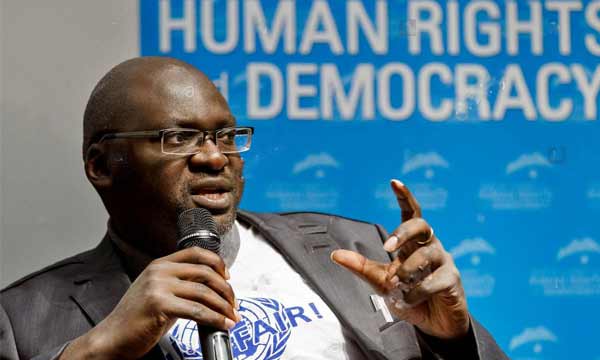 For Immediate Release 
Shocking Revelations:  Court Documents Reveal Nigerian Embassy Targeted Human Rights' Lawyer In USA For His Advocacy
The Nigerian embassy in Washington USA sought to withdraw the passport of a prominent US based Nigerian human rights lawyer Emmanuel Ogebe, documents filed by the government in an Abuja court disclose.
In an application for extension of time to file their defense late in a multimillion dollar defamation lawsuit Ogebe slapped against the Minister of Women's Affairs,   was attached an exhibit containing the incriminating information.  The document was a letter from the embassy dated June 2, 2016 addressed to the Permanent Secretary Ministry of Foreign Affairs in Abuja, Nigeria.
In it the embassy claimed that "Mr Ogebe derived pleasure from trash-talking Nigeria on social media in the chambers of the United States Congress and other public places across the United States".
The embassy letter then stated further that, "Going forward, to prevent Mr Ogebe, who is a Nigerian citizen, from making further derogatory comments that are inimical to the image of Nigeria, Government May consider taking punitive action against him, including withdrawal of his privilege to carry a Nigerian passport."
It was signed by the Charge d Affairs Hakeem Balogun.
Reacting, Barrister Emmanuel Ogebe who learnt of the letter only when the motion was served in court stated that while he had long since known and was fully aware of the hostile activities of the Nigerian government through its embassy in US to persecute him, it was still "shocking  to see in writing the extremes to which they would go and the extent of their desperation."
"This is a wicked, evil and oppressive regime which instead of celebrating those who do good, demonizes them and instead of jailing those who do evil defends and elevated them," he said.
"We are aware that the embassy had requested my arrest since 2015 claiming that the Chibok girls I brought to US were fake but the US government refused because they don't behave like dictators. Unknown to the Nigerian embassy, the US government used to ask to confirm who the genuine Chibok girls."
"Before now I had alerted relevant authorities about what the Nigerian embassy was doing so this just reaffirms what we knew with direct evidence from the horses mouth."
"What is most shameful is that instead of our embassy seeking foreign direct investment , they were wasting their time and our money monitoring my Facebook page. It is a sign of the joblessness and lack of focus of this administration that for three years they have been wandering in the wilderness trying to crucify me but God has not allowed their evil desires to come to pass."
"It looks like this administration is cursed with a nomadic presidency wandering about but achieving nothing besides damaging Nigeria abroad. This was how Buhari tried to abduct Umaru Dikko from London in a crate and bring him back as military dictator in the '80s. He failed then, and as long as God lives, he will fail again."
Barrister Ogebe promised to reveal more about Buhari administration's witch hunt against him for his human rights posture, "I have criticized every administration since I was called to the bar over a quarter of a century ago. Even Abacha who imprisoned and tortured me didn't threaten to revoke my passport. Buhari is competing to outdo Abacha in wickedness!"
Below are relevant excerpts from the letter.
The trial is continuing at the Abuja High Court in Nigeria. More details later.
– Tony Ogebe's Court Diary
E. Ogebe
Special Counsel
Justice for Jos Project