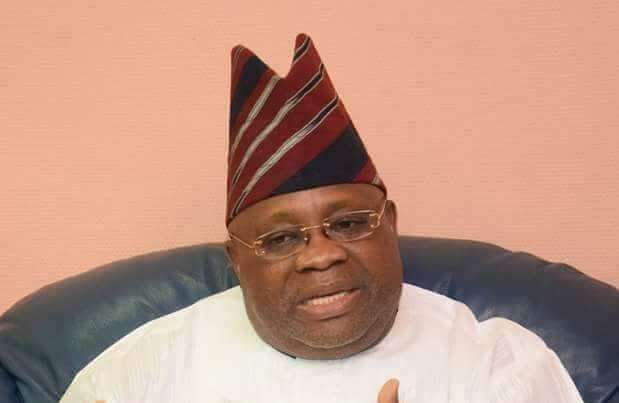 Osun 2018; CSO Condemns Police, FG Action Against Adeleke
Miffed by what it described as "a wicked plot to endanger the Osun governorship election and frustrate the prospect of a leading opposition candidate," a pro-democracy group has condemned the action of the Nigerian Police against Ademola Adeleke of the Peoples Democratic Party, PDP.
In a controversial move widely criticized as meddling in the Osun  governorship election, the Police announced their intention to arraign the PDP candidate "for examination malpractice, criminal conspiracy, and impersonation," a few hours after he scaled legal hurdles over his Secondary School certificate, and just 72 hours to the tension-soaked poll.
The development is generating a nationwide criticisms, largely seen as a ploy to favour the candidate of the ruling All Progressives Congress, APC, in the Osun poll and endanger the chances of Adeleke, a strong contender to win on Saturday.
The group, a Coalition in the Defence of Nigerian Democracy and Constitution (CDNDC), in a statement by its Convener, Ariyo-Dare Atoye, also accused the APC led federal government of playing a smart game in the onslaught against Adeleke.
The organization said the "sudden intervention" of President Muhammadu Buhari, asking the police to "reverse the plot, cannot in anyway exonerate the federal government of culpability, because a huge damage has been done against Adeleke."
CDNDC described the force's involvement as "a politically motivated case against Adeleke," while expressing dismay at the sudden attitude of the police authorities, who had all this while feigned ignorance over Kemi Adeosun saga.
"The action of the police to undermine the electoral prospect of a leading opposition candidate is an invitation to anarchy, and we strongly condemn it as a wicked, meddlesome and uncharitable act.
"It is obvious the APC led federal government is not ready to play fairly in the coming general elections, and this Osun experience has exposed the fact that they could do anything untoward and self-serving to undermine the chances of other candidates in 2019.
"If President Buhari is serious about his order and wants to absolve the federal government of culpability in the desperate attempt to stop the PDP candidate, he should immediately sack the Inspector General of Police.
"Mr. President should know that Nigerians and the International community can no longer be taken for a ride in a matter as this, and he must now show enough reason that he was not privy to the original plot against Ademola Adeleke of the PDP," the statement by CDNDC added.