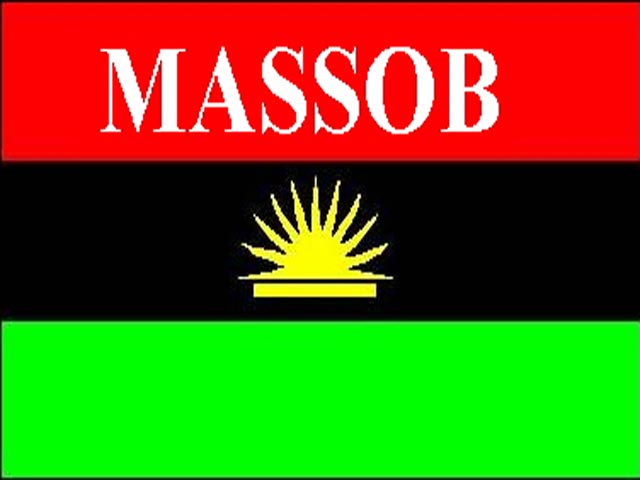 Woman Raises Alarm Over Missing Brother, Accuses MASSOB
… Accuses MASSOB, FG of threats to his life
Nonyelum Muomah, a Lagos-based business woman has raised the alarm over the life of her brother Jude, who she claimed is now in danger because of threats from the Movement for the Actualization of the Sovereign State of Biafra (MASSOB).
Jude Muomah, Nonyelum said is her brother and that they hail from in Ekwusigo Local Government Area of Anambra.
According to her, Jude enrolled into MASSOB in 2001 while serving as the Public Relations Officer of the Ebutte Metta market union in Lagos, believing that the agitation for the actualization of Biafra would be realized through the organization. He was immediately made a ward leader.
She however said that along the line, her brother disagreed with the modus oparandi of MASSOB leadership and questioned the rationale behind enrolling thousands of jobless youths whose only contribution to the struggle for self determination and emancipation of South Easterners was to foment trouble away from the non-violent mantra of MASSOB.
While his disagreement with the leadership of MASSOB over its operations continued, the Indigenous People of Biafra (IPOB) led by Nnamdi Kanu was formed and he believed that he shared the same ideals with IPOB on the non-violent approach to the realisation of Biafra, prompting his switch of allegiance to IPOB.
This is because, Jude she said, believed that Biafra would be achieved through peaceful agitation in anticipation of Nigerian Government's consideration of a call for referendum.
It was at this period she said that hell was let loose, even as she recalled a particular incident where a faceless group called demanding the sum of N2 million in exchange for her brother's security amidst life threatening text messages.
She claimed that there were also times his car was vandalised and assassins visited his home which compelled him to make a formal report to the Lagos State Anti-Robbery Squad (SARS), Ikeja.
"It was around this time that some leading members of his group IPOB started disappearing mysteriously and roadblocks were mounted at every one kilometer in all the South Eastern roads by the Nigerian military and police formations.
"These guys conducted stop and search operations primarily targeting IPOB members and to this day, the whereabouts of those successfully intercepted remains mystery.
"Of course the world must have heard about the heinous massacre of defenseless IPOB members on the May 29 and May 30, 2016 at Nkpor in Anambra state.
"It was after this that my brother decided to travel to Toronto Canada in June of same year to sensitize Igbos in the Diaspora of the need to support the peaceful struggle for the actualisation of Biafra," she said, without really explaining if it was either the IPOB, MASSOB or agents of the state that were after her brother.
Nonetheless, Nonyelum said that her brother had visited the United Kingdom, United States of America, France and some West African countries for IPOB meeting, adding that after attending an IPOB meeting at Fsetac town, Lagos in February, 2017, he and two of his friends, Emeka Obi and Chinonye Eze, were brutally attacked at Mile 2 Bus stop in Lagos.
She said that while the two friends lost their lives, Jude escaped death by whiskers.
"It was after this narrow escape that he went into hiding and by then, Nnamdi Kanu was already arrested alongside Bright Chimezie and one other fellow.
"My brother was in various hotels in Lagos for several weeks and he eventually had no option but to travel out of Nigeria on April 8, 2017 for the US where he felt safe," she said.
However, she said that on hearing that Nnamdi Kanu had been granted bail by the court after two years of incarceration, her brother, she explained returned back home from the USA prior to the attack on Nnamdi Kanu's home at Afara Ukwu, Umuahia by the military on September 14, 2017, where he had gone to see their leader.
Unfortunately, she said, her brother had not been seen since that attack where over 350 pro-IPOB supporters including Nnamdi Kanu allegedly disappeared without trace.