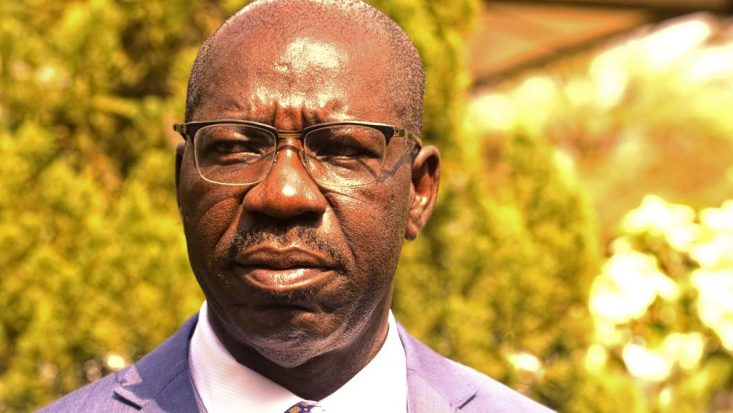 Angry Youths Pelt Governor Obaseki With Sachet Water
Governor Godwin Obaseki of Edo State narrowly escaped an attack by some unidentified youths  in Irrua, Esan Central Local Government Area of the State, who allegedly pelted his convoy with serchets of water.
The incident occurred on Tuesday when the Governor allegedly went to consult with leaders of the All Progressives Congress in the area, in connection with the party's forthcoming primaries for the 2019 general elections.
The attackers were said to have been dressed in an attire with the inscription of an Esan youth organisation.
There had been the speculation that the Governor was advocating the adoption of a consensus arrangement for the primaries as against the direct primaries preferred by some party members in the area to elect the flag bearers.
It was gathered that the angry youths stormed the venue of the meeting, accusing the Governor of allegedly discriminating against the district in the political affairs of the State.
The Governor was however said to have been rescued by some security operatives in the area.
A source at the Government House, who did not want his name in print and would neither confirm nor deny the incident, merely said that "the Governor is hale and hearty."
The State Chairman of APC, Mr. Anselm Ojezua, however confirmed the attack, noting that the incident was under investigation.
He hiwever added that the perpetrators had no connection with the APC.
"We are investigating the incident. I really do not know the motive for it but I can only tell you that those who did it were not APC youth.
"They wore the paraphernalia of the Esan Youth Movement. They invaded the arena to do what they did; I think it was more of a personal agenda than a political agenda," Ojezua said.
Commenting on the speculation that the Obaseki and the National Chairman of the APC, Mr. Adams Oshiomhole, had disagreed over the method to adopt for the primaries, Ojezua said that the party's candidates would only emerge through direct primaries, if the option of a consensus failed.
He said, "There is no truth at all (about the disagreement) because either process is recognised by our constitution. We in Edo State have always made our preference for a consensus (arrangement).
"We will only go for direct primaries, if we fail to achieve a consensus."