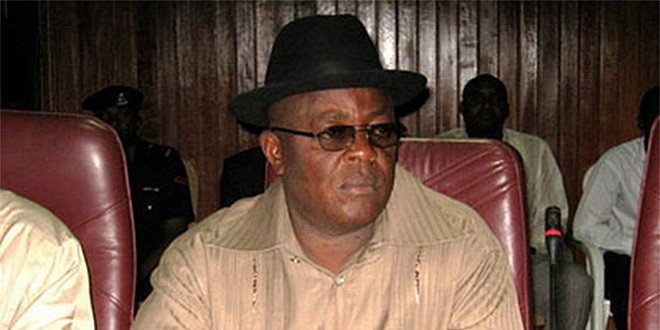 "Plot To Assassinate Umahi Unfortunate"
…Warns Of the Dire Consequences of Such a Dastardly Act
…Advises Umahi Not to Be Deterred As God Is His Shield 
Lady Monica Ada Chidinma Eze the Founder and President of David Umahi Nweze Akubaraoha Ebonyi Transformation Agenda (DUNAETA) a vibrant, virile grassroots NGO based in Abakaliki, the capital of Ebonyi State which is at the fore front of the re-election bid of Governor Dave Nweze Umahi in 2019 has described the discovery of Improvised Explosive Device, IED, (bomb) at the People's Democratic Party, PDP, Secretariat located along Abakaliki-Enugu expressway as a sign of cowardice and plot to import terrorism to the South Eastern part of Nigeria.
"The bomb was probably planted by some devious minds in order to assassinate the wonder working Governor of Ebonyi State, Apostle (Dr) David Nweze Umahi who was billed to visit the Secretariat within the week the bomb was discovered by the Ebonyi State Police Command. This abominable act is not only condemnable but devilish and the earlier such an idiotic act is nipped in the bud the better for us all as this evil plot hatched by some confused and misguided politicians who couldn't stand the revolution currently going on in Ebonyi State under the watch of Governor Umahi is capable of throwing Ebonyi State into unprecedented crisis" DUNAETA President stated in a press statement made available to Journalists in Abakiliki, Ebonyi State today.
She noted that, "The opposition politicians are very well aware that it will be highly impossible to produce a candidate that can match or capable to face Governor Umahi in the 2019 general elections so they decided to resort to this satanic option of attempting to eliminate him in order to have an easy sail to the Government House of Ebonyi state but unfortunately for them the plot failed woefully before its execution."
The fiery Lady Eze who also doubles as a Technical Assistant (TA) on Media to Governor Umahi thanked God that this plot was exposed and prevented by the watchful eyes of the gallant secret agencies in the state that discovered the devices before it could harm our dear Governor.
"Let me warn and reiterate that any harm in any form against Governor Umahi in order to prevent him from achieving his divine mission and vision for Ebonyi State will not only cast doom both to the Sponsors of such an act but will cause the state to retrogress."
Monica Ada Eze Aka Ada Ebonyi counsels the opposition politicians to get theirs acts together in order to present a candidate that will be dusted by Governor Umahi come 2019 and avoid any act that will consume us all.
"The fact remains that with what Umahi has achieved for Ebonyi State it will be absurd and foolhardy to attempt to dislodge him at this time as doing so will amount to taking the state backwards to its former state of a glorified State in Nigeria and by the grace of God such a plot will be an exercise in futility" she said.